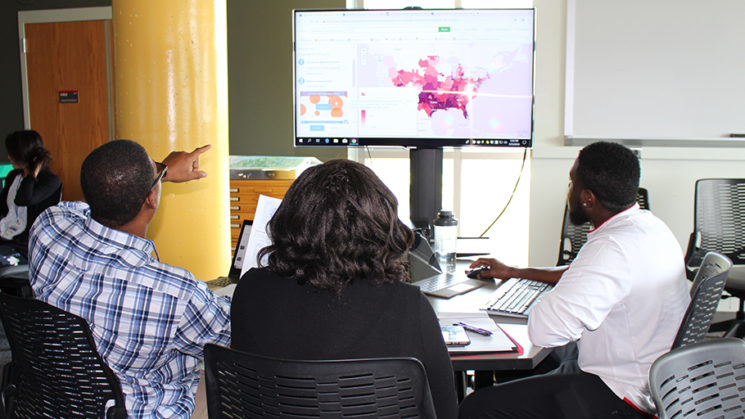 By Rachel Erickson and Lee Cannon
In July, 12 teachers from Durham County schools gathered to hear from NC State's Center for Geospatial Analytics faculty how to utilize Geographic Information Systems (GIS) and Geospatial Technologies (GSTs) to bring their classroom lessons to life visually. The middle school and high school teachers, many of whom teach at Title 1 schools in historically underserved communities, were excited for the chance to use technology to illustrate concepts in subjects ranging from social studies to geography, history, mathematics, science and more.
Expanding from Students to Teachers
The opportunity for teachers represented an extension of NC State's highly successful program for high school students called GAPS (Geospatial Application for Problem Solving) for Hi-Tech Teens, a two-year-old program with over 70 student participants to date. NC Space Grant helped fund the expansion from students to teachers as part of its mission to advance STEM learning in North Carolina classrooms. The NC State University Center for Geospatial Analytics, College of Education and RTI International also hosted and co-funded the four-day workshop.
A Geographic Information System (GIS) is a tool for gathering and analyzing data that uses spatial location and layered information to turn numbers into useful visualizations of maps and 3-D scenes. This unique system helps users make smarter decisions based on new insights into data, such as patterns and relationships.
During the four-day GAPS professional development workshop, teachers worked in groups to transform the data sets into high-level visuals using GIS software, rendering raw data into more easily understandable and actionable visual forms. The teachers analyzed Medicare healthcare hotspots, crime rates in Lincoln, Nebraska, data for siting wind farms for maximum sustainability, school safety statistics and others.
"Given the success of the student GAPS program, our next logical step was to bring these ideas and skills to teachers," said Eric Money, assistant teaching professor at NC State's Center for Geospatial Analytics. "We had been looking for opportunities to expand in this direction, so when NC Space Grant approached us about piloting a teacher professional development workshop, we jumped at the chance. Ultimately getting GIS and geospatial science to be effective in the K-12 classroom, and reach more students, requires the involvement of teachers, by both raising their awareness and their ability to use GSTs in the classroom."
Money spearheaded the teacher's workshop and co-led the sessions, along with Kyle Bunds, an assistant professor in the Department of Parks, Recreation and Tourism Management in NC State's College of Natural Resources. Other collaborators included Soonhye Park, an associate professor in STEM Education in the College of Education; Matt Reynolds, a Ph.D. student in the College of Education; Sadie Barker, an MGIST graduate student; and Jamie Cajka, a GIS analyst at RTI International.
Teachers work in small groups on their visualization projects.
Visualizing Data for the Classroom
Teachers who participated in the GAPS workshop gained new skills, access to experts in the GIS and geospatial science field, and networking opportunities with teachers pursuing similar interests. During the workshop, the experts assisted as the teachers created lesson plans for GIS implementation, so the teachers could immediately utilize in the classroom what they had learned during the four-day workshop.
As the culmination of their workshop, teachers presented the lesson plans they had developed in small groups to each other for feedback. The teachers spent their final day at the RTI International headquarters in Research Triangle Park talking with businesses that utilize GIS technologies and exploring the practical applications of the skills they hoped to impart to students after the workshop.
Eric Money (left) and Kyle Bunds led the teachers' workshop.

Two workshop participants give a presentation of their GIS images and lesson plan.
GAPS Program for High Schoolers Open for Applications
The Fall 2019 GAPS for Hi-Tech Teens program, the predecessor of the teachers' program, is entering its third year and is currently open for applications. The deadline is Tuesday, Sept. 10. In this free, eight-week program, local high school students learn how GIS can help solve real-world problems affecting their communities.
Students will gain hands-on experience with augmented virtual reality and web-based applications, as well as physical landscape models. Using these tools, they build skills in geovisualization, mapping and analysis, spatial inquiry, communication and problem solving. NC State's expert GIS faculty team up with NC State undergraduate and graduate students to guide the students through the lessons and provide tutoring and mentoring.
Twenty interested students will be accepted and the program runs from Sept. 21 to Nov. 16 in Raleigh. Students can apply on the GAPS program website.
☽