April 5-6, 2019 in Raleigh NC
About the Symposium
In the spring of 2019, NC Space Grant will host the inaugural Space Symposium. The 2019 Symposium will be student-focused in order to feature the work NC Space Grant award recipients, as well as other K-12, community college, and higher education students from around the state whose studies are in relevant STEM fields. The symposium will feature: plenary talks featuring participants from the space community (NASA, commercial space, aviation, etc.); student oral and poster presentations; a showcase of student design and team projects; an industry exhibit/career fair; and a "rodeo" demonstration from NC Space Grant-supported teams and clubs, as well as NASA and industry partners.
Registration information coming soon.
Tentative Agenda
Day 1: Space Symposium
8AM – 5PM, Friday, April 5, 2019
The StateView Hotel, Raleigh, NC
8:00 – 8:45         Check-in and Poster Set-up (Group 1)
9:00 – 9:10         Welcome Dr. Susan White, NC Space Grant, Director
9:10 – 9:30         Plenary:  The State of the Aerospace Workforce in NC
9:30-10:45          Panel #1 – Space Science:  Astronaut health, plant biology, remote sensing data, etc.
10:45-11:15        AM Break & Student Posters (Group 1)
11:15-12:30        Panel #2 – Space Technology: Rockets, Sensors, Unmanned Aerial System, Autonomy, Robotics, etc.
12:30-1:45         Networking Lunch and Poster Set-up (Group 2)
1:45-3:00           Panel #3 – Future Flight: Commercial space and  innovations in modern aviation
3:00-3:30           PM Break – Student Posters (Group 2)
3:30-5:00           Panel #4 – Careers in Aerospace: Panel followed by "Speed Dating" Round Tables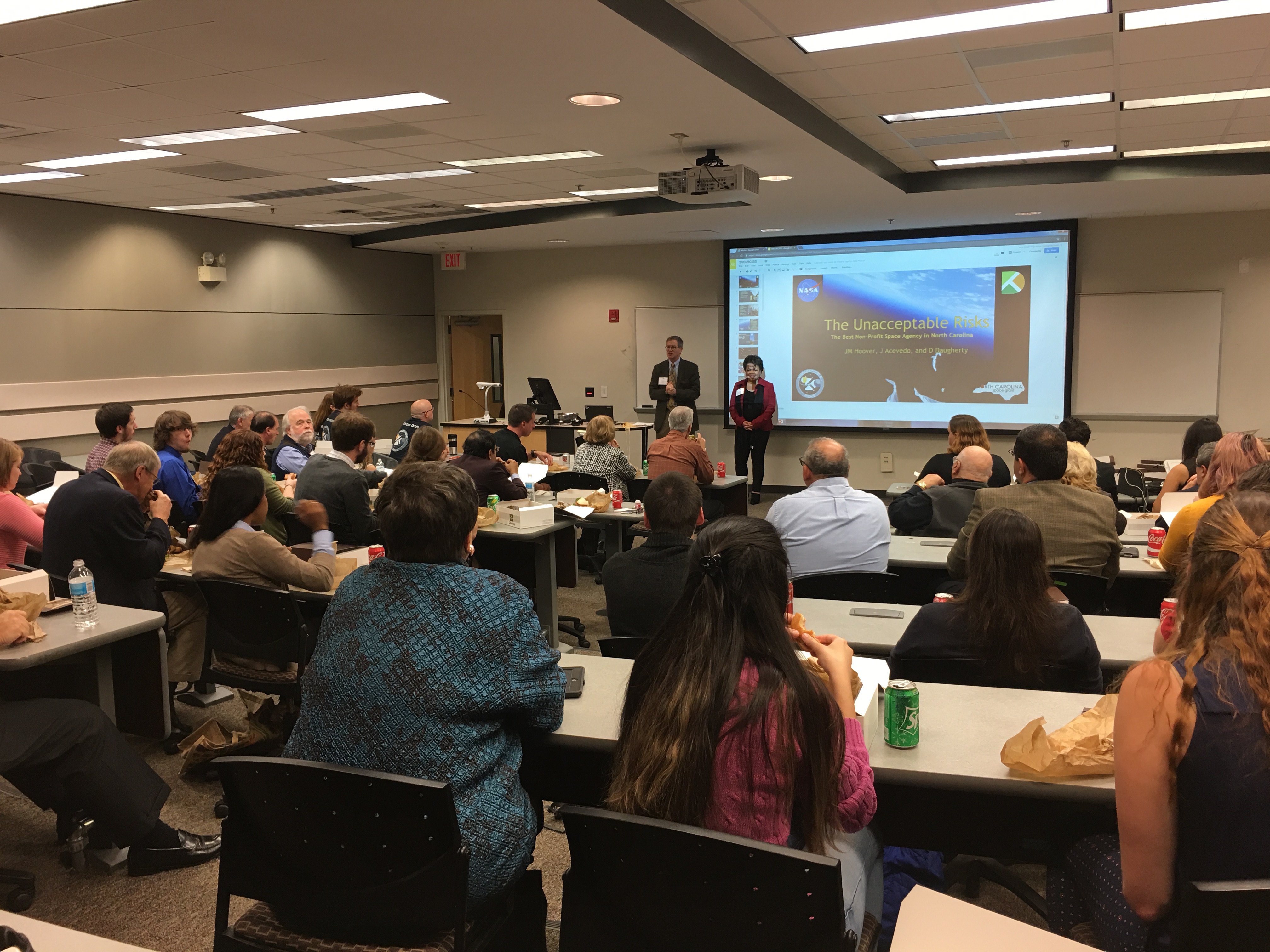 Day 2: Space Rodeo
7AM – 2PM, Saturday, April 6, 2019
Venue in Raleigh Area TBD
Emerging aerospace-related industries have created new research and employment opportunities in NC, nationally, and globally. Throughout the academic year, NC Space Grant has supported interdisciplinary student-led teams in hands-on research projects to prepare them for engagement in research and application opportunities. Teams have or will be participating in national student competitions such as the NASA Student Launch Initiative, NASA Robotics Mining Competition, Shell Eco-Marathon Challenge, and Unmanned Vehicle (Aerial and Underwater) Design Challenges.  At the Space Rodeo, NC Space Grant supported teams and clubs, as well as NASA and industry partners will demonstrate their work Examples may include: rockets, drones, rovers, high altitude balloons, etc.
For inquiries about sponsorship of the 2019 Student Space Symposium please contact Sandy Canfield, Assistant Director, NC Space Grant, at 919-515-5943 or srcanfie@ncsu.edu.
Sponsorship Levels
| | |
| --- | --- |
| SATURN |    Over $5,000 |
| JUPITER |    Up to $5,000 |
| MARS |    Up to $2,500 |
| MERCURY |    Up to $1,000 |