Background
The National Space Grant College and Fellowship Program was established by Congress under Title II of the National Aeronautics and Space Administration Authorization Act of 1988. Today the 52 Space Grant Consortia include over 1,000 affiliates from universities, colleges, industry, museums, science centers, and state and local government agencies.
NASA/North Carolina Space Grant (NC Space Grant) is a state-federal partnership with the National Aeronautics and Space Administration (NASA) comprised of a state-wide consortium of academic institutions that promote, develop, and support aeronautics and space-related science, technology, engineering and mathematics (STEM) education and training across North Carolina.
NC Space Grant has been administered at NC State University since 1991 and has provided consistent leadership in strengthening connections with NASA's research, technology and science missions. The program's mission is to promote, develop, and support STEM education and workforce development opportunities for students and faculty across North Carolina.
Programs are conducted in areas of fellowships, scholarships, education, research and public service to promote, develop and support aeronautics and space-related science, engineering and technology training and programs. A common focus is to involve women, underrepresented minorities and persons with disabilities and to reach more citizens of North Carolina.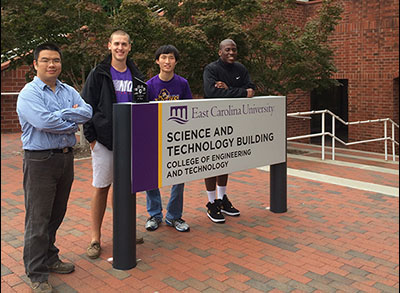 Objectives
The New Investigator Program is designed to strengthen North Carolina's research infrastructure by providing startup funding to early career college and university faculty who are conducting research that is directly aligned with NASA's mission. NASA's research interests embrace a wide range of science, engineering, computational and other disciplines. This opportunity is available to those who have yet to become established researchers. Awardees must be tenure track faculty who are within the first five years of their academic careers.
Award Level
NC Space Grant has allocated a total of $60,000 to provide between 3-4 awards ($20,000 maximum award) in the New Investigator program category, with a period of performance of 8 months (July 1, 2018 – March 30, 2019). Proposing faculty are required to provide 50% cost-matching (0.5:1) using non-federal funds. In other words, if $20,000 is requested from NC Space Grant then $10,000 must be provided as match. Facilities and Administrative (F&A, or overhead) costs are not allowed. Even though indirect costs may not be charged, they may be included as unrecovered IDC costs as part of the match requirement. All NC Space Grant-supported projects are subject to online annual progress reports and submission of a written final project report.
How to Apply
When the solicitation reopens in Spring 2019, proposals should be submitted via email as follows:
Jobi Cook, Associate Director
jobi_cook@ncsu.edu
One complete single electronic file in PDF format is required; authorized college/university signature is required on the cover page.
Deadline
This solicitation is currently closed and will reopen in late spring of 2019. 
Eligibility Requirements
This solicitation is open to faculty members of all 4-year accredited NC colleges and universities that are within the first five years of their initial academic career. Awardees must be qualified to serve as a principal investigator at their respective institution and be U.S. citizens. Permanent residents, foreign nationals and resident aliens may apply for funding but with budget restrictions (see Section 4.F. Budget and Budget Narrative). Any student(s) supported with award funds must also be a U.S. citizen(s).
Submission is limited to one proposal per Principal Investigator. An investigator may receive only one NC Space Grant New Investigator Program award in his/her academic career. NC Space Grant encourages proposals from females and underrepresented minority groups.
Request for Proposals
Jobi Cook, Associate Director
jobi_cook@ncsu.edu