NASA and Industry Experts Join NC Students at 2022 Space Symposium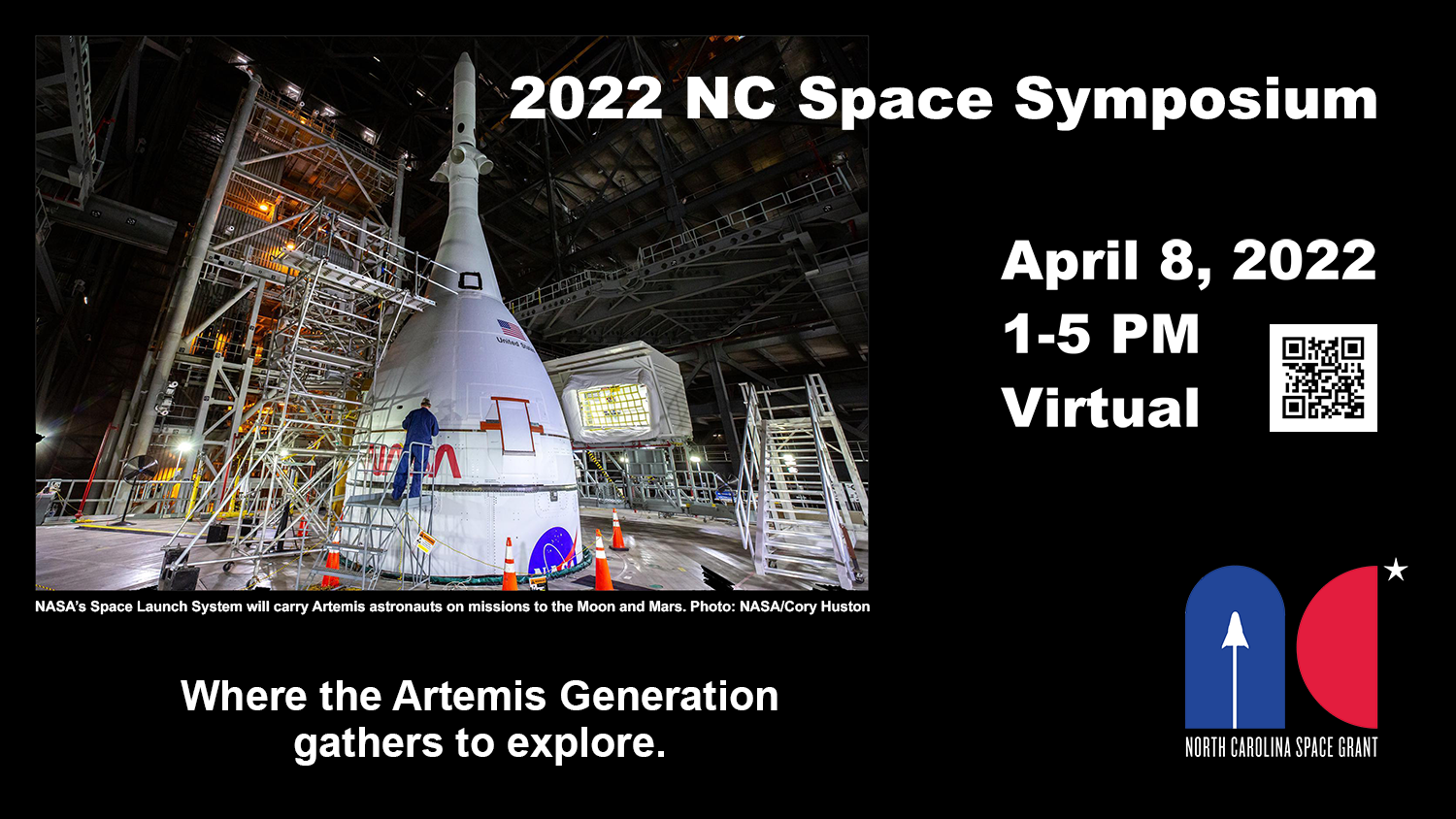 A NASA official, along with agency and industry experts, will join current and past NC Space Grant-funded student researchers on the agenda for the 2022 NC Space Symposium on April 8. Registration is open for the free, online event that will run from 1 to 5 p.m.
The keynote talk will be presented by Elizabeth DiGiovanni from NASA Langley Research Center, where she serves as senior advisor for the future of work. "Through her career, Beth has become a leading expert in transforming business functions specializing in supporting STEM-based organizations in effectively and efficiently meeting their mission," her NASA biography notes.
That makes her a great fit for the symposium, explains Jobi Cook, NC Space Grant associate director. "Her focus on strategic planning for the future of NASA's workforce means she has insight that's critical for our students and alumni launching careers, as well as our community and industry partners."
NASA describes DiGiovanni's role as leading efforts for "optimizing workplace investments to accelerate Langley becoming the nation's aerospace innovation hub." That includes potential changes to where, when, and how its people work, which will expand its abilities to attract and retain top talent and strengthen its partnerships inside and outside NASA. In fact, she recently moved from Washington D.C. to Cary, North Carolina, with her husband and daughter, as NASA Langley's first remote executive.
Previously, she served as NASA's director for mission support strategy and integration in the Mission Support Directorate (MSD), where she was responsible for developing and delivering agency-level strategy across the directorate's $3.5 billion portfolio. She also has served as NASA's deputy assistant administrator for HR Transformation. Other roles have included with the U S. Department of Energy and as a contractor for the U.S. Department of the Navy. Her career has included consulting, specializing in private sector corporate strategy and HR management.
DiGiovanni graduated from the University of North Carolina at Chapel Hill with a degree in business administration and double major in art history.
The NC Space Symposium panels open with a group of alumni sharing current roles and their academic and career paths, which included NC Space Grant and NASA during their student years. Matthew Mickens, PhD, Chief Scientist at Elevate Farms will moderate a panel including:
Kirsten Hall, Ph.D., Schmidt Science Fellow and Smithsonian Astrophysical Observatory Postdoctoral Fellow, Harvard and Smithsonian Center for Astrophysics
John Fuller, Director of Advanced Concepts, Virgin Orbit
Lynnae Quick, Ph.D., Planetary Scientist and Associate Branch Head, NASA Goddard Space Flight Center's Planetary Geology, Geophysics and Geochemistry Lab
Several students who received NC Space Grant funding in the 2021-22 year share their research findings in "lightning talks" within a five-minute timeframe. Tyler Hatch, Project Scientist, NASA Glenn Research Center will moderate the panel that includes:
A career panel shares their pathways to space careers and offers insights into their respective fields. Speakers include:
Registration for the 2022 Space Symposium and details on all Sessions and Speakers are available on the Symposium Portal. Learn more about this virtual event here: https://ncspacegrant.ncsu.edu/events/2022-space-symposium/
☽