Community College High Altitude Ballooning Team Challenge
Background
In 2014, North Carolina Space Grant developed and implemented a High Altitude Ballooning Challenge and competition for community college teams. This program was a huge success and several colleges now have ballooning design incorporated into their STEM curriculum (one team has even gone on to participate in advanced ballooning national activities).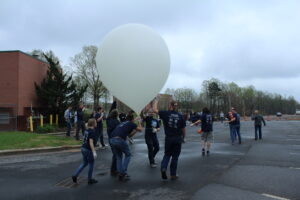 Objectives
Teams will incorporate the NASA design cycle to design, build, test and fly a scientific experiment onboard a high altitude balloon payload. Student teams will gather monthly for telecom sessions to be used as a forum to monitor progress and ask questions. At the end of the academic year, teams that complete critical design and build phases will launch their payloads at a balloon launch and retrieval team competition.
Here is a video from the student point-of-view about why you should participate.
Contact
For questions regarding this opportunity, please contact Jobi Cook at (919) 515-5933 or jobi_cook@ncsu.edu