Faculty Research Grant
Program Status: Closed
Program type(s): Faculty Research, funding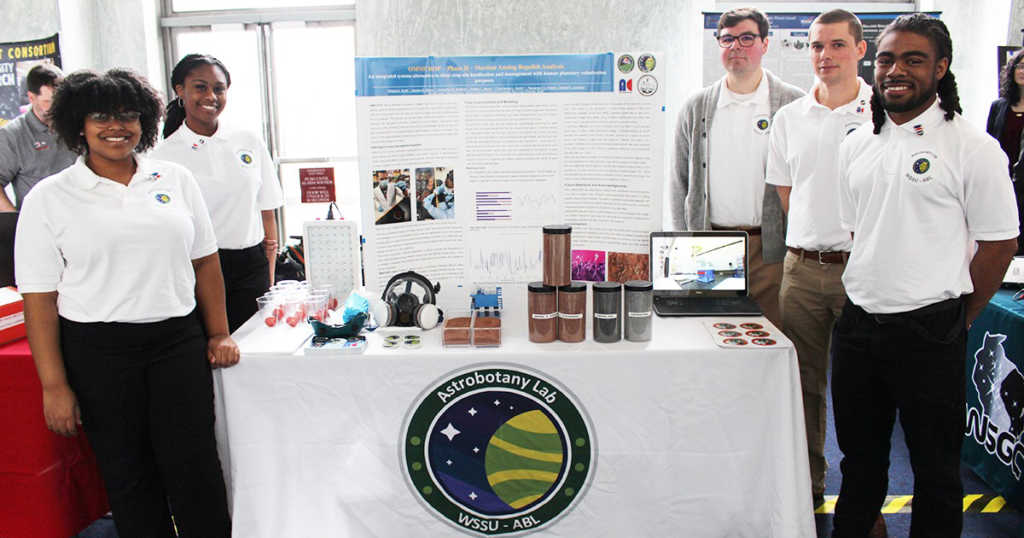 Summary
The North Carolina Space Grant (NC Space Grant) Faculty Research Grant is designed to provide support for faculty. This award is aimed at both emerging and established researchers who wish to pursue new research directions, develop new projects, and/or cultivate new collaborations to align their work with that of National Aeronautics and Space Administration's (NASA) related Mission Directorates.
The goals of the Faculty Research Grant are to incentivize faculty to:
1. Develop new research directions or projects;
2. Cultivate collaboration among new partners (e.g., universities and colleges, NASA centers, federal laboratories or research facilities, the International Space Station (ISS) U.S. National Laboratory, commercial space and other industry partners, formal and informal education partners, state and local government agencies, etc.); and
3. Meaningfully engage undergraduate and/or graduate students in their research endeavors.
Recognizing that some faculty and student populations and institutions have historically been underserved and underrepresented within research opportunities and in science, technology, engineering, and mathematics (STEM) fields, NC Space Grant encourages submissions that encourage and enhance diversity, equity, inclusion, justice, and accessibility (DEIJA).
Background
The National Space Grant College and Fellowship Program (Space Grant) was established by Congress under Title II of the NASA Authorization Act of 1988. Today the national Space Grant program includes over 1,000 partners from universities, colleges, industry, museums, science centers, and state and local government agencies. These partners work together to expand opportunities for U.S. citizens to understand and participate in NASA's aeronautics and space projects by supporting and enhancing STEM education, research, and public outreach efforts.
NC Space Grant is a state-federal partnership with NASA. NC Space Grant has been administered at NC State University since 1991 and has provided leadership in strengthening connections with NASA's research, technology, and science missions.
NC Space Grant strives to inspire and engage North Carolinians to explore the universe and our own planet by capitalizing on NASA's unique contributions in exploration and discovery. The mission of NC Space Grant is to utilize NASA-related STEM opportunities to engage and inspire North Carolinians and to build a diverse future STEM workforce. To do this, programs are conducted in areas of fellowships, scholarships, education, research, and public service to promote, develop, and support aeronautics and space-related STEM training and programs.
It is a national and NC Space Grant priority to increase diversity in STEM, from university students, faculty, and staff to industry employees. Traditionally, minority groups and women have been underrepresented in the STEM disciplines as students and faculty, as well as in the workplace after graduation. NC Space Grant champions diversity, equity, inclusion, justice, and accessibility (DEIJA) by proactively recruiting and training a diverse student and faculty population, as well as engaging a diverse range of public audiences across the state. We engage and serve communities that are representative of the populations where our programs operate.
Project Overview and Guidelines
Funding and Performance Period
NC Space Grant may award up to four (4) Faculty Research Grants subject to sufficient funding and quality of the received proposals. Funds will be awarded dependent upon the availability of federal funds. Applicants whose final proposal have been accepted may be asked to revise scopes of work, start and end dates, and budgets to align with available funding.
The Faculty Research Grant will be awarded for a two-year period of performance for up to $40,000 per award (up to $20,000 per year).
The period of performance is June 1, 2022 – May 31, 2024:
Year 1 up to $20,000: June 1, 2022 – May 31, 2023
Year 2 up to $20,000: June 1, 2023 – May 31, 2024
Non-federal matching funds are required and must equal at least 50 percent of the federal funding request (i.e., for every one federal dollar, 50 cents match is required (0.5:1)). This cost-match should be demonstrated in the proposed budget. Facilities and Administrative (F&A or overhead) costs are not allowed. Even though indirect costs (IDC) may not be charged, they may be included as unrecovered IDC costs as part of the match requirement. Required budget templates are provided in the RFP.
As required by NASA's Office of STEM Engagement (OSTEM), all NC Space Grant-supported projects must submit semi-annual progress reports, as well as a final project report (details in Section 7). Semi-annual progress reports must include student demographic data; a list of all publications, proposals, presentations, patents, etc.; and information about key project activities, milestones, and/or deviations from the initial proposal.
Eligibility
This solicitation is open to faculty members from all four-year accredited colleges and universities in the State of North Carolina, public or private.
Only tenure-track or research faculty at the level of assistant professor or higher are eligible to apply.
Awardees must be qualified to serve as a principal investigator (PI) at their respective institution.
PIs who previously received a Faculty Research Grant under the last cycle (2020–2022) are not eligible to apply, since their research direction is no longer new. Prior applicants may be able to apply in future cycles in the case that other requirements are met.
Faculty members participating in the Faculty Research Grant are not required to be U.S. citizens.
Any student(s) supported with award funds must be a U.S. citizen(s).
Submission is limited to one proposal per PI. There can only be one PI per project proposal. Although this grant encourages cross-institutional collaboration, only one PI may be funded (e.g., to travel to another lab or facility to participate in research).
Recognizing that some faculty and students populations and institutions have historically been underserved and underrepresented within research opportunities and in science, technology, engineering, and mathematics (STEM) fields, NC Space Grant encourages submissions that encourage and enhance diversity, equity, inclusion, justice, and accessibility (DEIJA). NC Space Grant strongly encourages proposals from females and underrepresented minority groups.
Proposal Elements
Principal investigator (PI) are expected to use funds to further establish their professional career through new research projects and directions and/or collaboration among new partners related to a NASA Mission Directorate.
A signed Title Page (PI and Authorizing Official)
Project Description (10 page maximum)
Project Timeline for Key Activities and Milestones (1 page maximum)
Current and Pending Funding Support (1 page maximum)
References Cited (pages as needed)
Curriculum Vitae for the PI and Key Partners (2 pages per person)
Letter(s) of Support and/or Intent (no page limit)
Budget and Budget Narrative (4 page maximum)
Recommended Out-of-State Reviewers (1 page maximum)
Data Management Plan (2 page maximum)
NASA is committed to student participation in research. It is strongly encouraged that undergraduate and/or graduate students be significantly involved. A significant award is a monetary award, or experience which includes one or more of the following: (a) has a value of greater than or equal to $3,000; (b) participation of greater than or equal to 160 hours; and/or (c) through a cost-benefit analysis proves to have significant impact on the student's academic achievement and employment. All students supported must be U.S. citizens.
Review Criteria
Proposals will be reviewed by out-of-state peers who are experienced in relevant NASA STEM fields, but not necessarily experts in each proposed field of research.
Proposals will be scored as per the following parameters:
Scientific and technical merit of the research goals and plan (25%)
New research direction, project, or collaboration that may further establish the PI's work under a NASA mission directorate (25%).
Involvement of students (graduate and/or undergraduate) in research, including encouraging and enhancing student DEIJA (20%).
Alignment of research to NASA Mission Directorates and NC Space Grant's Strategic Plan (15%).
Degree to which proposed research/project demonstrates effective use of funds, including meeting cost-share requirements (5%).
Letter(s) of support or intent (10%).
Some examples of factors to consider in highly competitive proposals: justification for new research direction, relevance to a NASA Mission Directorate, engagement with students in the research, encouraging and enhancing DEIJA, collaborative partnerships, and a budget that appropriately uses funds to complete the work. This is not an all-inclusive list.
Proposals recommended to NC Space Grant for funding will reflect reviewer recommendations, available funding, encouraging and enhancing faculty and student DEIJA, and current program priorities. Applicants should be aware that not all highly rated projects will be funded. NC Space Grant does not have enough funding to cover all the outstanding applications we receive.
Reporting Requirements
Reporting and Data Requests
Awardees will be required to maintain and provide data necessary for NC Space Grant to report to NASA's Office of STEM Engagement (OSTEM) or other federally required data reporting systems. This data typically includes, but is not limited to: description of work performed; evaluation of the impact of work performed; number of students, teachers, staff, faculty, and general public involved; gender, race, and ethnic demographic information; birth date and contact information (email) of all significantly supported student participants; and a list of papers published, presentations given, conferences hosted/attended. This information may be requested at any time throughout the award period. Although this timeline may change at any time based on NASA OSTEM requirements, generally the following reports will be requested:
November 1 (annually): A student data table is required at this time for NASA reporting. Data tables shall be submitted in accordance with NASA reporting guidelines and due dates. PIs are also required to submit information on any peer-reviewed scientific research publications authored or co-authored by investigators funded, in whole or in part, by NASA.
May 1 (annually): A progress report is required by NASA at the end of the academic year. This report must include a description of progress toward significant tasks, milestones, student engagement, funding, etc. Updates to the student data table, as well as publications and presentation, must also be submitted at this time.
June 30, 2024: A final report is due within 30 days of the end of the award. The report must contain the following:
Executive summary of the project that highlights results, conclusions, and impacts. The summary should be written for general audiences and easy conversion into an NC Space Grant communications product, such as a blog post and/or social media posts. The executive summary should be between 500 and 1,500 words.
Statement on how the funding assisted the PI
Final student data table
Final list of papers submitted for publication that are relevant to the research performed during the period of this award. Include title, publication, date of publication, and author list. Kindly provide a copy of any publication to NC Space Grant, if allowable by the publisher.
Final list of all presentations delivered during the period of this award. Include presentation title, co-publishers, event, location, and date.
Final list of all patents that were applied for and/or approved during the period of this award
Final list of all proposals submitted during the period of this award that are relevant to the research performed. Include proposal title, announcement of funding opportunity title, name of sponsor, amount of proposal, proposal due date, role of investigator, and funding status.
Final list of pending and actual support for PI. Include source, PI, percentage of time, and role of investigator.
High-resolution photos of the researcher, research team, research in progress, etc., suitable for sharing in blog posts and on social media.
NOTE: The collection and submission of student data is a REQUIREMENT of the NASA Office of STEM Engagement in order for NC Space Grant to receive annual funding. As a result, all NC Space Grant funded projects MUST report student participant data (names, dates of birth, gender, ethnicity, email address and field of study, etc.). To protect Personally Identifiable Information (PII), NC Space Grant utilizes reporting systems that are Family Educational Rights and Privacy Act (FERPA) compliant and meet or exceed the United States Department of Education Privacy Technical Assistance Center and the Student Privacy Policy Office data security recommendations.
See the full RFP for all requirements.
Proposal Submission
Please read the entire RFP for full details.
Point of Contact
Sandy Canfield, Assistant Director, srcanfie@ncsu.edu, (919) 515-5943