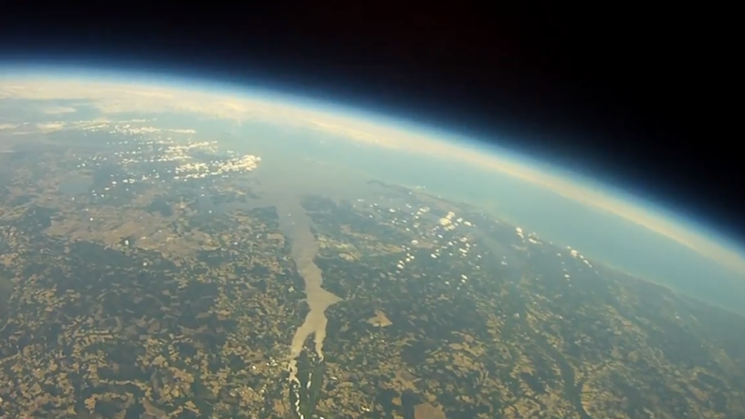 This view of the Pamlico River, taken from the Edgecombe Community College high-altitude balloon, won in the best photo or video competition category.
Each year since 2015, the NC Space Grant-supported community college high-altitude ballooning teams have gathered together each spring to launch weather balloons carrying the payloads they have worked on for two semesters. They compete to win awards for highest altitude reached, best payload design, landing closest to target, best team photo or video and best overall team.
This year, however, a monkey wrench landed squarely in the middle of the teams' plans. Severe thunderstorm predictions for the morning of the event forced cancellation of the balloon launch. The launch had been scheduled to coincide with the annual Gravity Games in Lenoir, North Carolina, sponsored by Google, and the Gravity Games organizers called off the event because of lightning risks.
"This was the first year we had to incorporate our rainy daily protocols and the teams had to launch at their own sites," noted NC Space Grant's high-altitude ballooning coordinator, Doug Knight, professor of engineering physics at Lenoir-Rhyne University. "They did their best to improvise and overcome the challenge of the last-minute change. Some of the teams had performed test launches and that helped, while other teams banded together to do a smaller group launch amongst themselves."
Bouncing Back
Durham Technical Community College's team, The Unacceptable Risks, launched first – on April 12, a day prior to the originally scheduled launch. Conditions were cloudy but favorable in Durham County and the team's launch was a success. Edgecombe Community College's team, CritECCly Stable, and the Nash Community College team, the Nashtronauts, teamed up for a successful joint launch on April 22.
The High-Flyin' Navigators of Rowan-Cabarrus Community College followed with a launch on April 26. The team had a chance to test their payload release mechanism after their descending payload became tangled in tree branches. The mechanism successfully freed the payload and the team was able to retrieve it.
The Catawba Valley Community College HAB Team, Pitt Community College and Wake Technical Community College teams also completed the challenge on their home turf. This year, a Pitt Community College advertising and graphic design student, Max Hamilton, supplied the winning competition logo (pictured below) in a separate contest.
The 2019 competition included other changes as well. This year, new teams joined the competition and new payload requirements challenged returning teams.
"Each team had a different way of fulfilling the requirements," Knight said, "and the differing methods all were viable. The outreach was also impressive this year with the teams going to more groups and places to get out the word on their work."
Students walk away from the competition with new skills and abilities, learning not only engineering skills, but also how to operate on a team, with a strict budget and timeline. They also tend to walk away with a new appreciation for their own abilities and a broader view of the career paths open to them.
Knight says, "The ability to successfully complete a difficult engineering challenge is a huge confidence builder for the participants. The students initially wonder how it will be possible to complete the competition, much less do well, and when it is over, are amazed at the quality of their work. This tells students, 'If I can do this, what else can I do?!'"
Knight and the teams are already looking forward to the 2020 competition and a chance for a return to the group launch model. Knight hints there will again be modifications to keep the engineering design challenge fresh.

The winners of the 2019 Community College High-Altitude Ballooning Challenge and Competition are:
Best Payload: Rowan-Cabarrus Community College
Highest Altitude: Nash Community College (91,750 feet)
Closest to Predicted Landing: Durham Technical Community College
Best Photo/Video (featured above): Edgecombe Community College
Best Overall Team: Edgecombe Community College (with a total score of 89 out of 100 points, beating the second-place team by 0.5 points)
Congratulations and thanks from NC Space Grant to all the teams who participated in this year's Challenge and Competition! All the teams displayed great technical skill, work ethic, creativity, teamwork mentality and resilience in their efforts. We look forward to next year's competition with hope that all the teams can gather together again.
Durham Technical Community College students prepare their balloon for launch.

Students and staff from Nash Community College and Edgecombe Community College accept NC Space Grant award plaques for their 2019 accomplishments.

A Rowan-Cabarrus Community College student works on the payload for his team's launch.
☽