2019 NC Space Symposium
April 4-5, 2019 in Raleigh, NC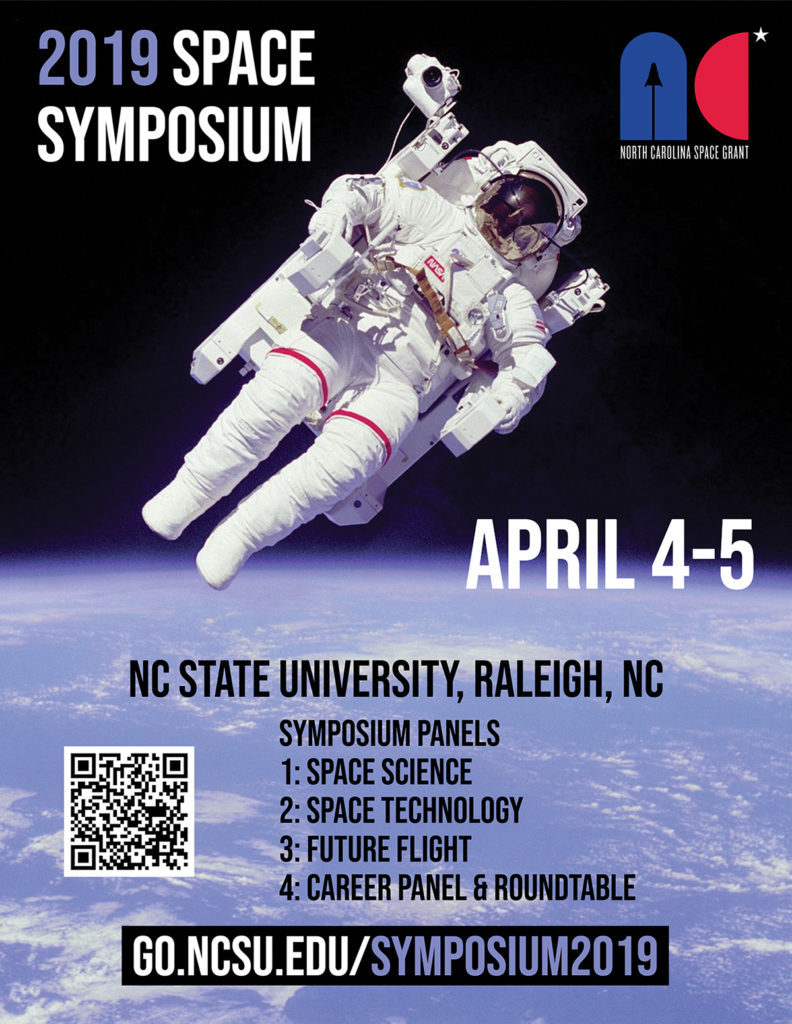 About the Symposium
View and Download the 2019 Symposium Program
On April 4-5, 2019, North Carolina Space Grant hosted the inaugural SPACE Symposium. The 2019 Symposium was a student-focused event, showcasing the work of NC Space Grant award recipients, as well as other K-12, community college and higher-education students from around the state whose studies are in relevant STEM fields. The symposium featured a plenary talk by Christopher Chung of the Economic Development Partnership of North Carolina, a keynote presentation by Gerald D. "Gerry" Griffin, former flight director of the NASA Apollo lunar missions and former director of Lyndon B. Johnson Space Center in Houston, as well as presentations by members of the space community (NASA, commercial space, aerospace engineering, aviation, etc.) and student oral and poster presentations.

Symposium Panels
Session 1: Space Science
What can we learn about Planet Earth from the study of other planets? How can astronauts survive and maintain good health off-planet? What types of habitats must we design and construct in order to support deep space exploration? Astronauts can't take everything with them during long-duration travel, so what technology will they need in order to harvest food, water, fuel and other essential resources from other worlds? These are just some of the questions that scientists aspire to answer as we explore our solar system and universe. Answering these questions requires the work of individuals with a wide variety of skills and different areas of expertise – from biologists, chemists and geologists to astrophysicists, planetary scientists and more. Achieving survival off-planet requires robust research infrastructure – not only the obvious examples, like the International Space Station (ISS), but also the facilities and capabilities found at universities, labs and observatories.

In this session, scientists in diverse disciplines shared their current research, as well as discuss questions at the crux of human exploration in long-duration flight and deep space.

Session 2: Space Technology
Technological innovation is the engine of exploration. Space technology developed for spaceflight, communications and exploration also makes a difference here on the Earth. Technology like spacecrafts, satellites, cubesats and space stations depend on constantly evolving support infrastructure, equipment and procedures to get off the ground. The nation's investments enable NASA and private industry to develop, demonstrate and implement game-changing technologies and capabilities and build partnerships that expand the aerospace field. Aerospace technology supports economic innovation in the nation and creates solutions that benefit all life on the planet.

In this session, panelists discussed their research – conducted in NASA centers, academia, industry or through leveraged partnerships – and its real-world applications in the space technology arena.
Session 3: Future Flight
Thanks to the Wright Brothers, North Carolina holds the national and international title of "First in Flight." Technological innovations in aviation and aerospace are on the move in our state and across the nation, thanks to NASA and North Carolina-rooted industries. Cutting-edge research in future flight is also taking place at our universities and colleges, as students and faculty researchers explore complex aerodynamics, advanced materials, fuel efficiency, propulsion and automation.
In this session, panelists at the cutting edge of aviation and aerospace highlighted current research that is preparing us for the day humankind ventures into deep space.

Session 4: Career Panel and Roundtables
In this panel, students heard from technical experts about their academic and career pathways, as well as gain insight into recruitment trends and desired skills from human resource professionals. During a series of more inter-personal roundtables, students had the opportunity to get answers to their questions from experts in diverse fields.
Symposium News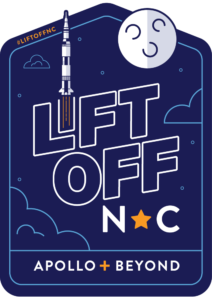 The NC Space Grant 2019 SPACE Symposium is a featured event of the Lift Off NC: Apollo + Beyond collaborative, celebrating the 50th anniversary of the Apollo 11 lunar landing. For more information about the collaborative and other events happening all year, visit LiftOffNC.org.