From North Carolina to NASA: Two NC Space Grant Alumni Share Their Paths to NASA Goddard Space Flight Center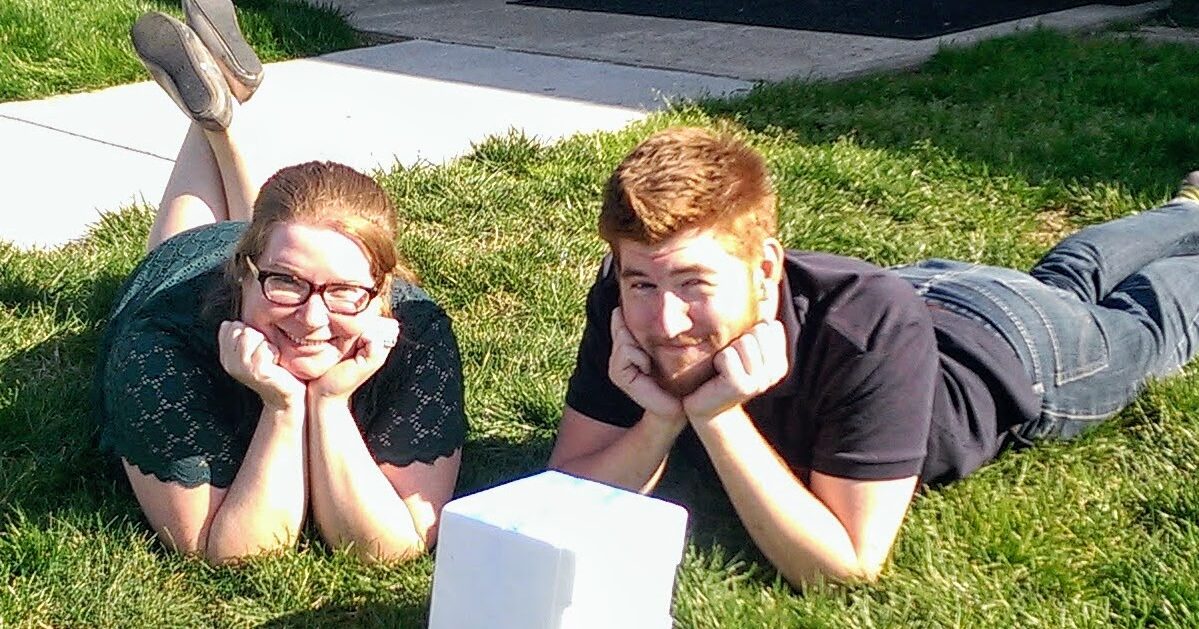 When Jimmy Acevedo first came to Durham Technical Community College, he had only a vague idea of his college goals.
"I already changed majors three times and tried two other career options on top of that," Acevedo recalls. "So, it was just sort of 'Get anything done anywhere. I'll try a few classes and try not to have an anxiety attack about it.'"
His friends told him to talk to Julie Hoover, then a geology instructor at the college. The two bonded quickly over their shared interest in NASA and space science. Hoover had always dreamed of working for NASA but thought it would be impossible for her to do so. "I thought that you have to be so smart and you have to have all these degrees and I just was so intimidated by the prospect of it that I didn't even attempt it," Hoover notes.
Acevedo and Hoover both are now employees at NASA Goddard Space Flight Center. Both credit North Carolina Space Grant for supporting their spacework endeavors throughout the years, starting from the very first high-altitude ballooning grant they received in 2015.
"When we had that first opportunity, the ballooning, from Space Grant, that turned into all these other opportunities," Hoover recalls. "People kept saying to us 'You should be working at NASA.' So, that's when my goal switched. Maybe this is something I can really do — and I knew I wanted to. NASA became the goal then."
Beginning with Ballooning
When Hoover heard about NC Space Grant's Community College High-Altitude Ballooning Challenge (HABC) in 2015, she jumped at the opportunity despite having no experience with ballooning. Despite initial challenges, Hoover was determined to be a faculty advisor to get Durham Tech involved in the competition.
"Just immediately when we saw 'Space Grant' on it, I knew that I was going to try to make it happen for sure. And then we just sort of blindly dove in," Hoover explains.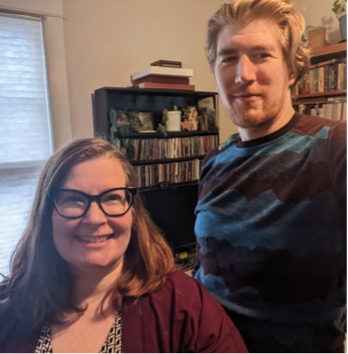 The NC HABC provides funding and technical resources to community college teams throughout the academic year to prepare for the contest in the spring. Teams design, build, test and fly a scientific experiment onboard the balloon payload before launching the balloon at the final competition site.
Acevedo was the student lead for Durham Tech's HABC team that year and was tasked with organizing the team to design the balloon. Acevedo was also new to high-altitude ballooning, but the resources provided by NC Space Grant opened his eyes to a new world of space science instruments – though not without a few challenges along the way.
"We decided one of the best things to do to test our payload was to try to throw it off the highest building we could find," Hoover describes. After contacting some friends, she received permission for the team to do their test on the roof of a large parking deck. "We did end up throwing it off and it came down, drifting gently onto someone who was eating their lunch." The parking deck owners decided that was the team's first and last opportunity to have that test site.
Building careers, building confidence
Acevedo attributes his current career at NASA to NC Space Grant's support for accessible space science. The funding provided to Durham Tech's HABC team and the opportunities the competition provided helped Acevedo round out his engineering and technical skills. After the competition, Acevedo went on to land an internship where he worked on high-altitude balloons and built flight hardware for the launches.
"I can't emphasize enough how the accessibility led me to the first internship," says Acevedo. "It was just the right amount of challenging and exciting. It gave us the portfolio to get the next internship. It basically pushed a little stepping stool right in front of me and several other students."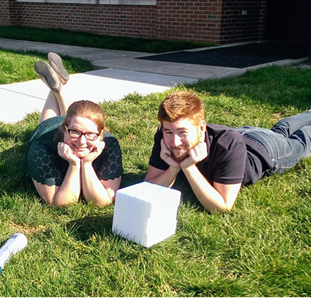 The team-based competition also showed Acevedo the importance of communication within a group and working towards a "minimal viable product" before adding extras, something he struggled with before. He refined his leadership abilities by taking on different roles and finding what fit him the best.
"I think it gave us the opportunity to try on different hats," explains Acevedo. "That's really important for students, especially students who are figuring out what their next steps are going to be."
As the faculty advisor, Hoover learned technical skills like reporting and how to understand risks in engineering projects like high-altitude ballooning. These skills were important for many different projects.
"Learning to have the attention to detail and having everything look good," she notes. "It's just paid off so much, not only from the vocabulary but also from an organizational and management perspective of these sorts of things," says Hoover. "All the manuals and things that we had to do, that really had just a one-to-one transference to the jobs that I have done at NASA."
Researching for the competition and teaching themselves how to engineer balloons helped boost Acevedo and Hoover's assessments of their own abilities. "Having the confidence…has really shifted what I will tackle in my career," Hoover explains. "Before, I thought, 'I didn't take classes and my degree isn't in that field,' and that would hold me back a little bit. But now I've seen that if I put in the work, I'm capable of doing these things."
Acevedo shares similar sentiments: "For me, as someone who was kind of academically crushed and had a lot of self-doubt, it was a great way not only to build some skills but also to show, 'oh, I can kind of do this.'"
For Acevedo, believing he could get in the door was the first big step towards his NASA career — and that started with high-altitude ballooning. "I actually have a tattoo of one of our balloons taking off," he remarks, "as a sort of reminder that 'Hey, you messed up, and this thing you did got you back in the saddle.' So that's what that means to me."
Reaching for the skies
Today, Acevedo and Hoover continue to maintain a close friendship in their roles at NASA Goddard.
The two work in STEM engagement outreach for NASA. Hoover works with the Joint Polar Satellite System (JPSS), a series of environmental satellites that gather global data on weather and climate. Meteorologists use this data to make accurate weather forecasts and predict severe weather events. She is particularly excited about how JPSS allows scientists to monitor climate change trends. "It really does feel like I'm helping the world a little bit by doing just a tiny, tiny piece of the mission of JPSS," Hoover explains.
Acevedo works for NASA's Space Communications and Navigation program, or SCaN, where he teaches the public about emerging space communications technology. Both are also in charge of their project's intern programs, which they see as a chance to help other students reach their goals.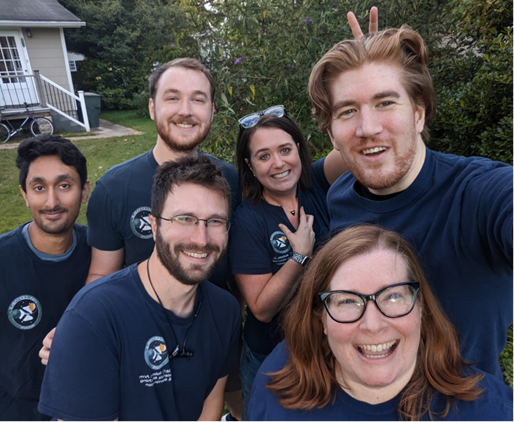 Acevedo and Hoover often think of NC Space Grant and the program's impact on their current careers. "The projects that we did with NC Space Grant were just completely life changing," says Hoover. "Whenever somebody says, 'We need something for this; how do we get to teachers? Who do we think of for this?' I always think of North Carolina Space Grant, or one of the other states' Space Grants."
"Space Grant's work changes lives. It's definitely changed ours. It's definitely changed a number of other folks in our lives," says Acevedo. "Thanks to the people behind the scenes who make that possible and who care about the students. Without them, it would have been very different for us. It is hard to quantify the impact their positivity had."
☽