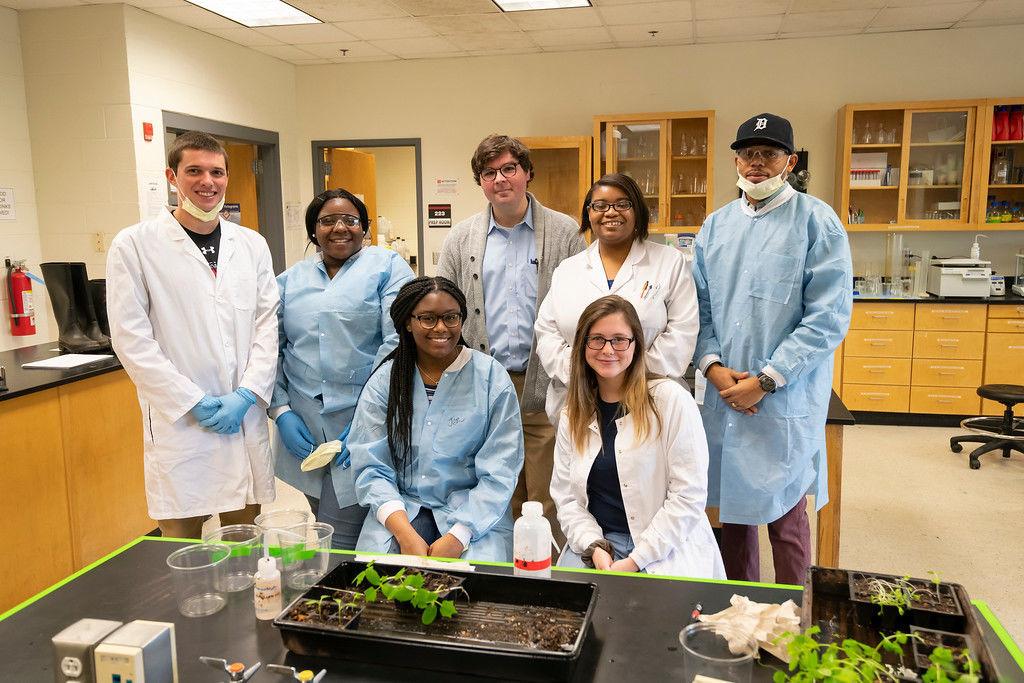 Background
The National Space Grant College and Fellowship Program (Space Grant) was established by Congress under Title II of the NASA Authorization Act of 1988. Today the national Space Grant program includes over 1,000 partners from universities, colleges, industry, museums, science centers, and state and local government agencies. These partners work together to expand opportunities for U.S. Citizens to understand and participate in NASA's aeronautics and space projects by supporting and enhancing science, technology, engineering and mathematics (STEM) education, research and public outreach efforts.
NC Space Grant is a state-federal partnership with NASA. NC Space Grant strives to inspire and engage North Carolinians to explore the universe and our own planet by capitalizing on NASA's unique contributions in exploration and discovery. The program aims to support STEM research, education, and public understanding that support current and future success at NASA and across the State of North Carolina. In order to achieve those aims, we create and support exceptional opportunities for students, faculty, educators, and the public to participate in space-related research, education, and outreach programs.
NC Space Grant has been administered at NC State University since 1991 and has provided leadership in strengthening connections with NASA's research, technology, and science missions. Programs are conducted in areas of fellowships, scholarships, education, research, and public service to promote, develop, and support aeronautics and space-related STEM training and programs.
It is a national and NC Space Grant priority to increase diversity in STEM, from university students, faculty, and staff to industry employees. Traditionally, minority groups and women have been under-represented in the STEM disciplines as students and faculty, as well as in the workplace after graduation. NC Space Grant champions diversity, equity, and inclusion (DEI) by proactively recruiting and training a diverse student and faculty population, as well as engaging a diverse range of public audiences across the state. We engage and serve communities that are representative of the populations where our programs operate.
Objectives
The North Carolina Space Grant (NC Space Grant) Faculty Research Grant is designed to provide support for faculty. This award is aimed at both emerging and established researchers who wish to pursue new research directions, develop new projects, and/or cultivate new collaborations to align their work with that of National Aeronautics and Space Administration's (NASA) related Mission Directorates.
The goals of the Faculty Research Grant are to incentivize faculty to:
Develop new research projects or research directions;
Meaningfully engage undergraduate and/or graduate students in their research endeavors; and
Cultivate collaboration among new partners (e.g., universities and colleges, NASA centers, federal laboratories or research facilities, the International Space Station (ISS) U.S. National Laboratory, commercial space and other industry partners, formal and informal education partners, state and local government agencies, etc.).
Recognizing that some faculty and students populations and institutions have historically been underserved and underrepresented within research opportunities and in science, technology, engineering, and mathematics (STEM) fields, NC Space Grant encourages submissions that encourage and enhance diversity, equity, and inclusion (DEI).
Award Level
Space Grant may award up to four (4) Faculty Research Grants subject to sufficient funding and quality of the received applications. Funds will be awarded on a yearly basis and are dependent upon the availability of federal funds. Applicants whose final proposal have been accepted may be asked to revise scopes of work, start and end dates, and budgets to align with available funding.
The Faculty Research Grant will be awarded for a two-year period of performance at a level of up to $40,000 per award (up to $20,000 per year).
The period of performance is June 1, 2020 – May 31, 2022:
Year 1: June 1, 2020 – May 31, 2021
Year 2: June 1, 2021 – May 31, 2022
Non-federal matching funds equal to at least 50 percent of the federal funding request must be provided (i.e., 0.5:1). This cost-match should be demonstrated in the proposed budget.
How to Apply
The deadline for full proposals is 5 p.m., Monday, April 6, 2020. The portal will automatically close after this time. Please do not wait until the last minute to start your application process and/or submit your materials. We will not be able to extend the deadline for anyone for any reason.
Full proposals will be submitted using an online proposal-management system portal:
Eligibility Requirements
This solicitation is open to faculty members of all 4-year accredited N.C. colleges and universities in the State of North Carolina, public or private.
Only tenure-track or research faculty at the level of Assistant Professor or higher are eligible to apply.
Awardees must be qualified to serve as a principal investigator (PI) at their respective institution.
U.S. citizens are eligible to apply. Permanent residents, foreign nationals, and resident aliens are also eligible to apply for funding but with budget restrictions (see Section 4.H. Budget and Budget Narrative).
Any student(s) supported with award funds must be a U.S. citizen(s).
Submission is limited to one proposal per PI. There can only be one PI per project proposal. Although this grant encourages cross-institutional collaboration, only one PI may be funded (e.g., to travel to another lab or facility to participate in research).
NC Space Grant encourages proposals from females and underrepresented minority groups.
Request for Proposals
All elements of the proposal must be combined into a single PDF document. A complete application package includes:
A signed Title Page
Project Description (10 page maximum)
Project Timeline (1 page maximum)
Current and Pending Support (1 page maximum)
References Cited (pages as needed)
Curriculum Vitae for the PI (2-page limit per CV)
Letter(s) of Support
Budget* and Budget Narrative (4 pages)
Recommended Reviewers
Data Management Plan (2-page limit)
* A template for the budget is provided in the full RFP.
Review Criteria
Proposals will be reviewed by peers who are experienced in relevant NASA STEM fields, but not necessarily experts in each proposed field of research. Proposals will be evaluated for technical/scientific merit; alignment to NC Space Grant and NASA goals; encouragement and enhancement of DEI of faculty and students; student engagement; and budget, which will be scored per the parameters below:
Scientific and technical merit of the research goals and plan (30%)
Probability of the project to develop new capabilities and/or the potential to increase involvement in funded NASA-related research for the PI (20%).
Involvement of students (graduate and/or undergraduate) in research. Encouraging and enhancing student DEI is encouraged. (20%)
Alignment of research to NASA Mission Directorates and NC Space Grant's Strategic Plan (15%)
Budget alignment to research plan and satisfying cost-match requirement (10%)
Letters of support (5%)
Recognizing that some faculty and students populations and institutions have historically been underserved and underrepresented within research opportunities and in science, technology, engineering, and mathematics (STEM) fields, NC Space Grant encourages submissions that encourage and enhance diversity, equity, and inclusion (DEI).
Proposals recommended to NC Space Grant for funding will reflect reviewer recommendations, available funding, encouraging and enhancing faculty and student DEI, and current program priorities. Applicants should be aware that not all highly rated projects will be funded. NC Space Grant does not have enough funding to cover all the outstanding applications we receive.
Requirements*
All NC Space Grant-supported projects are subject to annual progress reports and submission of a written final project report.
Awardees are required to interact with the NC Space Grant communications specialist (Lee Cannon, lacannon@ncsu.edu) to translate the findings of their research into a communications product(s) (e.g. news article, guest blog post, social media posts, etc.).
See full RFP for all requirements.
Point of Contact
Sandy Canfield, Assistant Director, srcanfie@ncsu.edu, (919) 515-5943