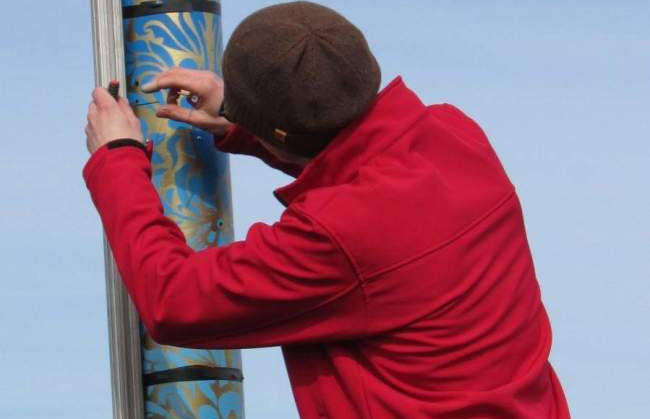 The NASA Student Launch is a research-based, competitive, experiential exploration activity. It strives to provide relevant, cost-effective research and development of rocket propulsion systems. This project offers multiple challenges reaching a broad audience of middle and high schools, colleges and universities across the nation.
On April 8, the usually quiet fields of Bragg Farms in North Alabama transformed into a small spaceport as nearly 50 teams from 23 states launched their student-built rockets in the annual Student Launch competition, hosted by NASA's Marshall Space Flight Center in Huntsville, Alabama.
Teams sponsored by NC Space Grant included: UNC-Charlotte, NC State University and Lenoir Rhyne University.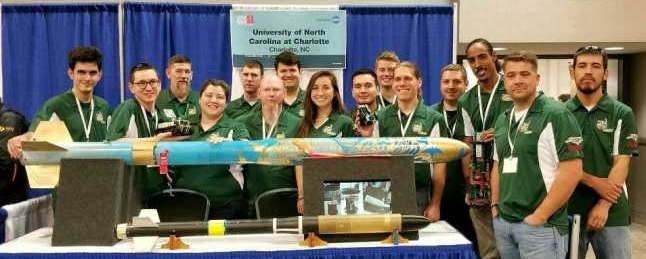 All three teams competed well, but for UNC-Charlotte, the competition flight was an overwhelming success. Rocket Rick hit an apogee of 5381 feet — 101 feet above our target altitude — and was fully recoverable. Their rover, Sally's Love Bug, performed beautifully with a flawless deployment. It traversed a total distance of 106 inches, exceeding the minimum requirement of 60 inches traveled, and it successfully deployed solar panels!
Watch UNC-Charlotte's Rocket Team at NASA's Student Launch Initiative:
UNC-Charlotte earned the following awards at the NASA Student Launch Initiative competition:
2nd Over All Team,  earning them $2,500 from the National Space Club – Huntsville.
1st Place Project Review Award
2nd place in payload design
1st place in rover-payload design
2nd place in safety documentation
2nd place in rocket appearance at the 2018 NASA Student Launch Competition
MAE 481 – Space section first, full-scale launch test of rocket and controller designs. Created by MAE students: Sarah Crawford, Hansan Hao, Matthew Lampe, and Stephen Scheuerle