NC Space Grant Partners with RTI International to Support Drone Research Intern – The Future of Meaningful Research is Interdisciplinary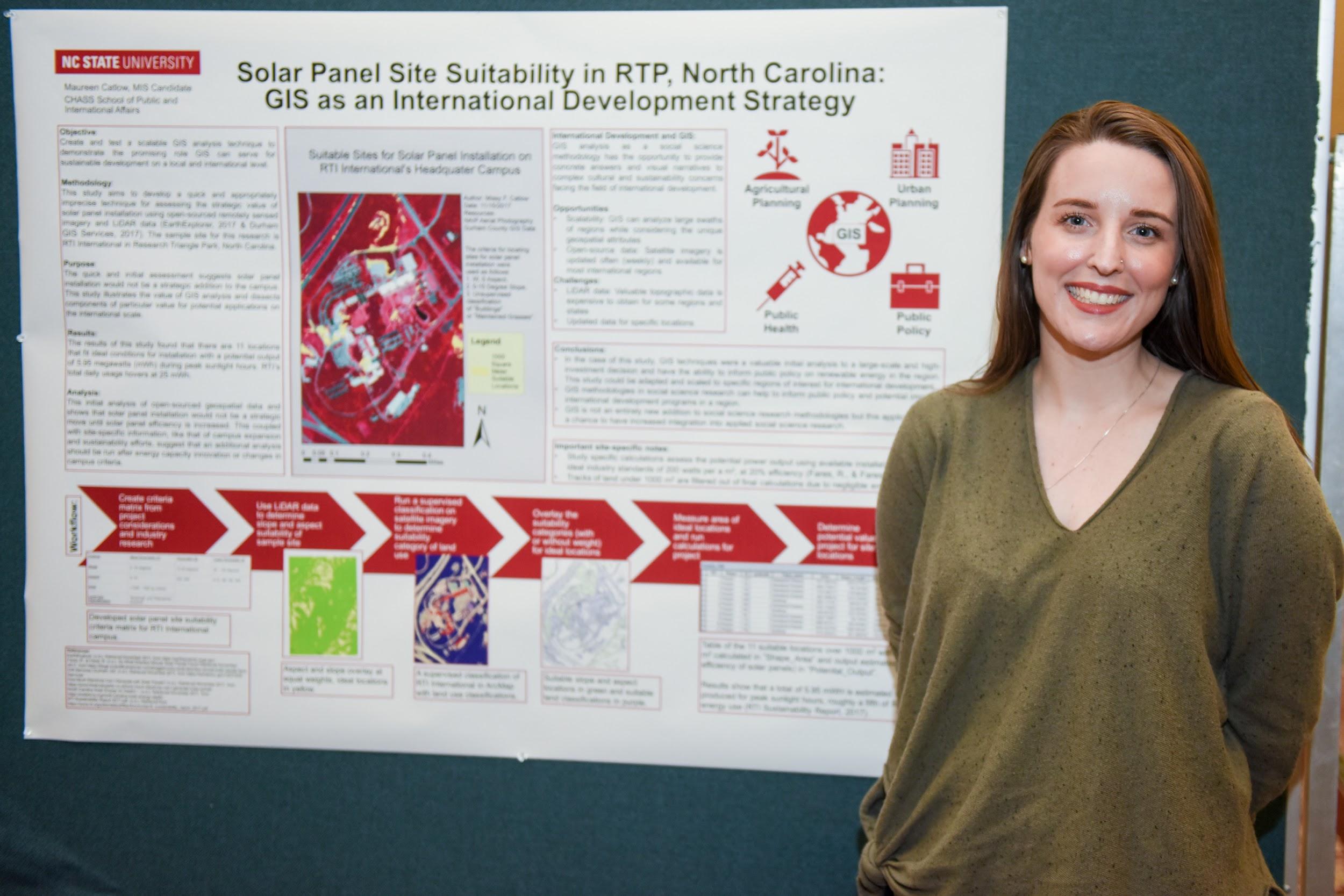 This past spring semester Maureen Catlow had the opportunity to intern at RTI International headquartered in the Research Triangle Park, North Carolina. Maureen shared with us her thoughts about her research and experience, and how her internship has informed her next steps along her academic and career pathway.

Q: What is your academic area of study and where are you currently pursuing your degree? 
A: I am a student in the Master of International Studies (MIS) and the Post-Graduate Geospatial Information Science (GIS) Certificate programs at NC State.
Q: How did you find out about the RTI Internship? What prompted you to apply, or what did you find interesting about the program?
A: My internship experience with RTI started in May 2017 after I connected with Amy Vargas-Tonsi, an alumna of the NC State MIS degree program and the Program Manager for the University Collaboration Office (UCO) at RTI International. I interned with the UCO team for eight months and during that time I collected and refined skillsets in project management, teamwork, and business development. These skills proved to be vital in my next internship with the RTI Drone Initiative as we worked to complete complex research projects in collaboration with external partners and identify new growth opportunities in an emerging and competitive industry.
In December 2017, as my internship with the UCO was coming to a close, I started to think about how I could leverage my GIS coursework to shift into a different career path. My experience with GIS and interest in Unmanned Aerial Systems (UAS) applications brought me full circle back to RTI International. The RTI Drone Initiative had a unique opportunity for a Business Development Internship with a scope of work that seemed to combine my previous internship experience with my academic passions. I connected with Dr. Joe Eyerman, the director of this initiative, to learn about current projects, future research directions, and discuss what this internship would look like in the coming months. It was clear to me that I needed to apply for this opportunity after our conversation.  
Q: Where did you complete your internship (e.g., physical location in NC as well as info about office vs. field work, etc.)?
A: I completed my internship at RTI International's headquarters in Research Triangle Park, North Carolina. I also spent time at the field site, located in Garner, conducting Unmanned Aerial Vehicle (UAV) test flights in collaboration with the North Carolina Department of Transportation (NCDOT), North Carolina State Highway Patrol (NCSHP), UNC Charlotte's Computer Science Department (UNCC), and Remote Intelligence.
Q: What was the technical focus of your internship?
A: My internship required a technical understanding of UAV data collection, imagery processing, and project management skills to produce a final project report. My team and I collaborated on data processing and analysis procedures with our partners and led the final quality assessment of our results. My subject matter expertise on UAV data and imagery analysis provided guidance for decision-making and research designs. Our research and following conclusions illustrated the value of UAV technology integration into State Highway Patrol's efforts to address officer and highway safety.
Q: What have you learned during your internship?
A: One important take-away from this internship experience is seeing the value of interdisciplinary approaches to create data-driven solutions. My background is in development anthropology; I supplemented this with technical skills in GIS to pursue my interest in researching UAV applications for precision impacts, like that of surveying difficult-to-reach places or building international agricultural capacities. I have always known that interdisciplinary approaches could provide valuable and innovative answers, but this year, in my role as a student and intern, I was able to see that come to life.
My internship with the RTI Drone Initiative allowed me to merge my social science background and technical expertise gained through my academic coursework to build stronger research methodologies and understand the potential (intended and unintended) impacts of research results to apply innovative solutions for a better tomorrow. I used the overlap between my coursework and RTI internship to think critically about how my work might be leveraged in international development projects or as part of new initiatives to analyze economic crises and address natural disasters. For example:
I analyzed UAV imagery of St. Marten following Hurricanes Irma and Maria to assess damage and monitor responses.
I presented research on renewable energy policy in North Carolina at the NC State Graduate Research Symposium, where I was recognized for bridging together different disciplines to create more efficient decision making and data-driven solutions using GIS techniques.
My capstone project focused on analyzing satellite nighttime light data in Venezuela to follow economic activity of the ongoing financial crisis.
Q: What was something that was challenging and/or exciting as part of your internship? OR What did you see, explore or learn about RTI and UAS that left an impression on you?
A: Starting a career presents the inherent challenges of being an early-career professional, often without an established reputation; women often encounter even more barriers, especially when engaging in STEM research fields or industries. This internship challenged me to navigate and make an impact, as a woman in STEM and an early-career professional in the new and emerging field of UAV research. More broadly, it gave me an opportunity to refine and apply my technical knowledge and skills in a nonprofit research setting. I now have an arsenal of experiences and strategies from which to pull; this internship provided me not only the chance to attend UAS conferences, but also to network with and receive guidance from senior women leaders in science and technology who helped answer questions and provide insight on how to address and assert yourself in a gender-imbalanced industry.
Q: What is your planned academic pathway? Has your internship experience impacted your academic or potential career pursuits?  If so, how?
I will graduate in May with both a master's degree and GIS certificate. While I have considered applying to a Ph.D. program that combines my passion for bridging social and technical sciences, I want to build on the current momentum I have gained by leveraging my research and business skillsets to pursue a career in Unmanned Aerial Systems (UAS) technologies. I plan to reevaluate my career and research goals after I spend some time in the workplace to determine if continuing my education is the right step.
Q: What do you envision doing in your career?
A: I would love to continue working in this field and enjoy the startup-like environment that emerging technologies, like UAS, offer. The UAS industry is newly regulated and subject to changes, which means there is a lot of opportunity to marry my professional and research interests into previously unchartered UAV applications.
This internship continued to remind me how important it is to create data-driven solutions using research and technology for meaningful impacts on both a local and global scale. Idealism can seem naïve, especially coming from a new graduate, but working toward an improved vision of the future gives my work additional meaning beyond personal fulfillment. My determination is a cornerstone of my work ethic and contributing to a larger purpose helps to fuel that motivation to create my best work, because it will affect someone one day, and I want that to be for the better. They say that my generation of graduates could have up to seven separate careers in their lifetimes, so wherever my interests and skillsets take me, I plan to integrate my passion for meaningful impact with my interest in UAV applications.