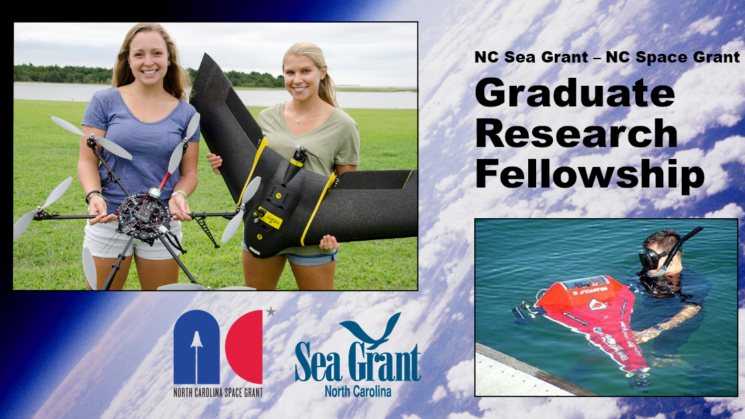 North Carolina Sea Grant and North Carolina Space Grant are inviting applications for their third joint Graduate Research Fellowship Program.
The selected fellows will focus on nearshore environs and coastal watersheds. Proposed projects should apply relevant measurement instruments and/or remote-sensing data sources from the National Aeronautics and Space Administration (NASA), National Oceanic and Atmospheric Administration (NOAA) or other data sources.
For more information, visit the Fellowship page here. 
"We are excited to offer this student fellowship again," notes Susan White, North Carolina Sea Grant's executive director. White is also the North Carolina Space Grant director.
"We see many synergies linking the remote-sensing expertise of Space Grant and Sea Grant's applied research with coastal communities, businesses and resource managers."
This opportunity is open to full-time graduate students who are enrolled at accredited colleges or universities within North Carolina and are U.S. citizens. The application deadline is 5 p.m. Friday, Sept. 21, 2018.
The programs anticipate offering up to two 12-month graduate fellowships for the 2018–2019 academic year. Each fellow may receive up to $10,000, subject to the availability of funds. The proposed research must be supervised by a faculty mentor and completed no later than Dec. 30, 2019.
For the full RFP and detailed instructions, visit the Fellowship page on the our website.
This fellowship is supported by North Carolina Space Grant in partnership with NASA, North Carolina Sea Grant in partnership with NOAA and the State of North Carolina.
Contact:
John Fear, North Carolina Sea Grant, 919-515-9104, jmfear@ncsu.edu
Jobi Cook, North Carolina Space Grant, 919-515-5933, jobi_cook@ncsu.edu