NC Space Grant Interns Embark on Projects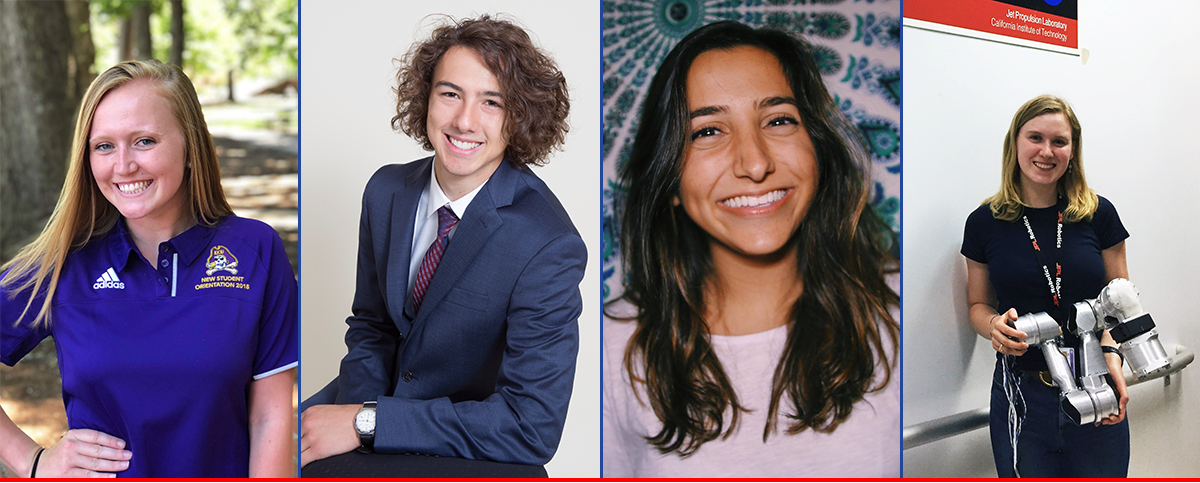 Photo above, from left to right: 2019 NC Space Grant-supported summer interns Antonia Dingeman, Noah Prezant, Atanaz Bohlooli and Katherine Tighe
NC Space Grant has selected the 2019 class of summer interns, who will take on real-world projects and assist with hands-on research at NASA centers and aerospace companies in North Carolina and up and down the east coast. Some students have already begun their summer assignments, while others begin June 3. Following the summer internship season, three students will begin semester-long internships at NASA centers with NC Space Grant support – one in Fall 2019 and two in Spring 2020.
North Carolina Space Grant collaborates with NASA centers, industry partners, research organizations and other national Space Grant partners to provide hands-on experiential and research experiences to higher-education students through meaningful internships.
Internships at NASA centers provide students with opportunities to engage in cutting-edge research under the direction of a NASA mentor. NC Space Grant also collaborates with research organizations and industry partners for still more internship opportunities for supported students, helping launch their aerospace and aviation careers.
Internships are a vital part of the workforce development process, preparing students to make great contributions to the aerospace and aviation fields in North Carolina and the nation.
Summer 2019 NC Space Grant Interns
Trenton Abbott, NASA Langley Research Center intern, North Carolina State University, aerospace engineering Ph.D. student
Atanaz Bohlooli, NASA Marshall Spaceflight Center intern, Duke University, mechanical engineering major
Antonia Dingeman, LORD Corporation intern, East Carolina University, engineering major
Auston Gray, NASA Langley Research Center/National Institute of Aerospace (NIA) intern, North Carolina State University, aerospace engineering major
Elliott Hannah, HyperSizer intern, North Carolina State University, mechanical engineering major
Lenore Miller, NASA Langley Research Center intern, Fayetteville State University, chemistry major
Noah Prezant, HyperSizer intern, North Carolina State University, aerospace engineering major
Kara Snow, North Carolina Museum of Natural Sciences Astrophysics Laboratory intern, Appalachian State University, applied physics major
Katherine Tighe, NASA Jet Propulsion Laboratory intern, Duke University, mechanical engineering major
Krishna Tiwari, NASA DEVELOP intern, Western Carolina University, environmental science major
Max Weintraub, HyperSizer intern, North Carolina State University, aerospace engineering major
Fall 2019 NC Space Grant Intern
Cade Justad-Sandberg, NASA DEVELOP Intern, University of North Carolina at Asheville, biology major
Spring 2020 NC Space Grant Interns
Simone Blaylock, NASA Kennedy Space Center intern, North Carolina A&T State University, chemistry major
Danielle Chasten, NASA Kennedy Space Center intern, North Carolina A&T State University