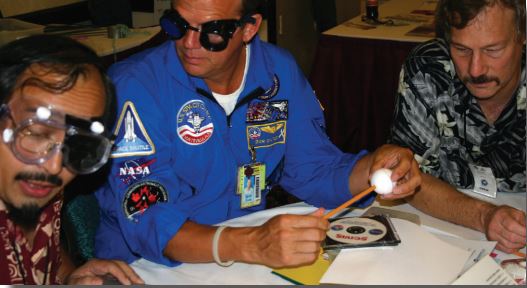 By Rachel Erickson
North Carolina Space Grant, in partnership with the South Carolina and North Dakota Space Grants, will offer a professional development workshop for educators Oct. 14 – 15 at the North Carolina Museum of Natural Sciences. The IDEAS (Innovative Differentiated Explorative Activities in Space Science) workshop is part of the museum's Educator Trek program for formal and informal educators.
Presenters from NASA and the special education community will share standards-based space science education activities from NASA to improve the quality of education taught to exceptional students. Educators will experience hearing and sight impairment simulations while interacting with activities and presentations. Discussions held throughout the workshop will be based on ADD, ADHD and other learning disabilities.
Credit is available for North Carolina's Environmental Education Program.
Registration information can be found below:
The deposit for participation is $25. Participants will receive a $150 stipend upon completion of the workshop.
Click below for more details about the event:
☽