Join the NC Statewide Star Party April 16-17
Stargazers of all ages will be part of the 9th annual North Carolina Statewide Star Party on Friday, April 16 and Saturday, April 17. With a theme of the Moon and Mars, the event is part of the annual NC Science Festival.
NC Space Grant is a key partner. "Since the first Star Party, we've partnered with the NC Science Festival to support events across the state each April. Hosted by state parks, libraries, universities and museums, these events bring communities and families together to explore the night sky and engage in astronomy activities" says Jobi Cook, associate director of NC Space Grant.
Organized by the Morehead Planetarium and Science Center at the University of North Carolina at Chapel Hill, the 2021 Star Party will follow a hybrid model due to the COVID-19 pandemic. That means some outdoor events may be held around the state with social distancing, while others will be online. Materials are available to download for planning your own party.
Signature events will be held virtually by the Chapel Hill Public Library and UNC-Chapel Hill. The library event geared towards children will be held on Wednesday, April 14. Tina Coyne-Smith, NASA/JPL Solar System Ambassador Volunteer, will lead a hands-on Mars Rover building activity. UNC-Chapel Hill will host an all-day event Friday, April 16 with virtual activities for all ages. Scientists and researchers will present their work and lead activities, concluding with a virtual skywatching experience.
Each star party location will feature specific activities, such as read-alongs, stargazing with telescopes, and hiking. Virtual activities include stargazing, an Oreo moon activity, building a cardboard rover, making a paper mars helicopter, and much more.
The 44 events across the state include Imagination Station Science and History Museum Star Party on April 16 in Wilson, which will include interactive stations and star viewing. On April 17, in-person events are expected to include the Aurora Fossil Museum Star Party, including "a speaker sharing their experience exploring the universe."
Many virtual options are available. For example, Lee County Libraries are offering a virtual Spanish and English story-time and craft activities. Davidson College is hosting a week-long virtual event with daily activities that will conclude with a "synchronous star party" on Saturday, April 17.
Outdoor activities are contingent upon weather conditions; however, backup plans are in place. Check the full events listing to find your closest event and sort by in-person and virtual options. Some require registration and spaces are limited, so make sure you register early.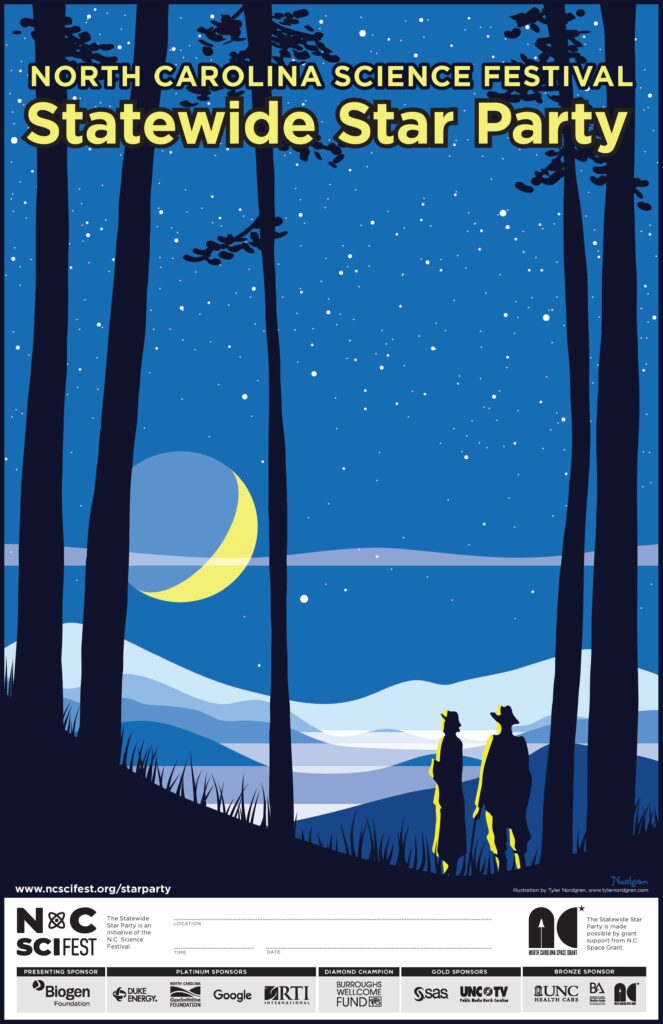 NC Statewide Star Party Quick Links: