Success Aloft: High-Altitude Ballooning Challenge Returns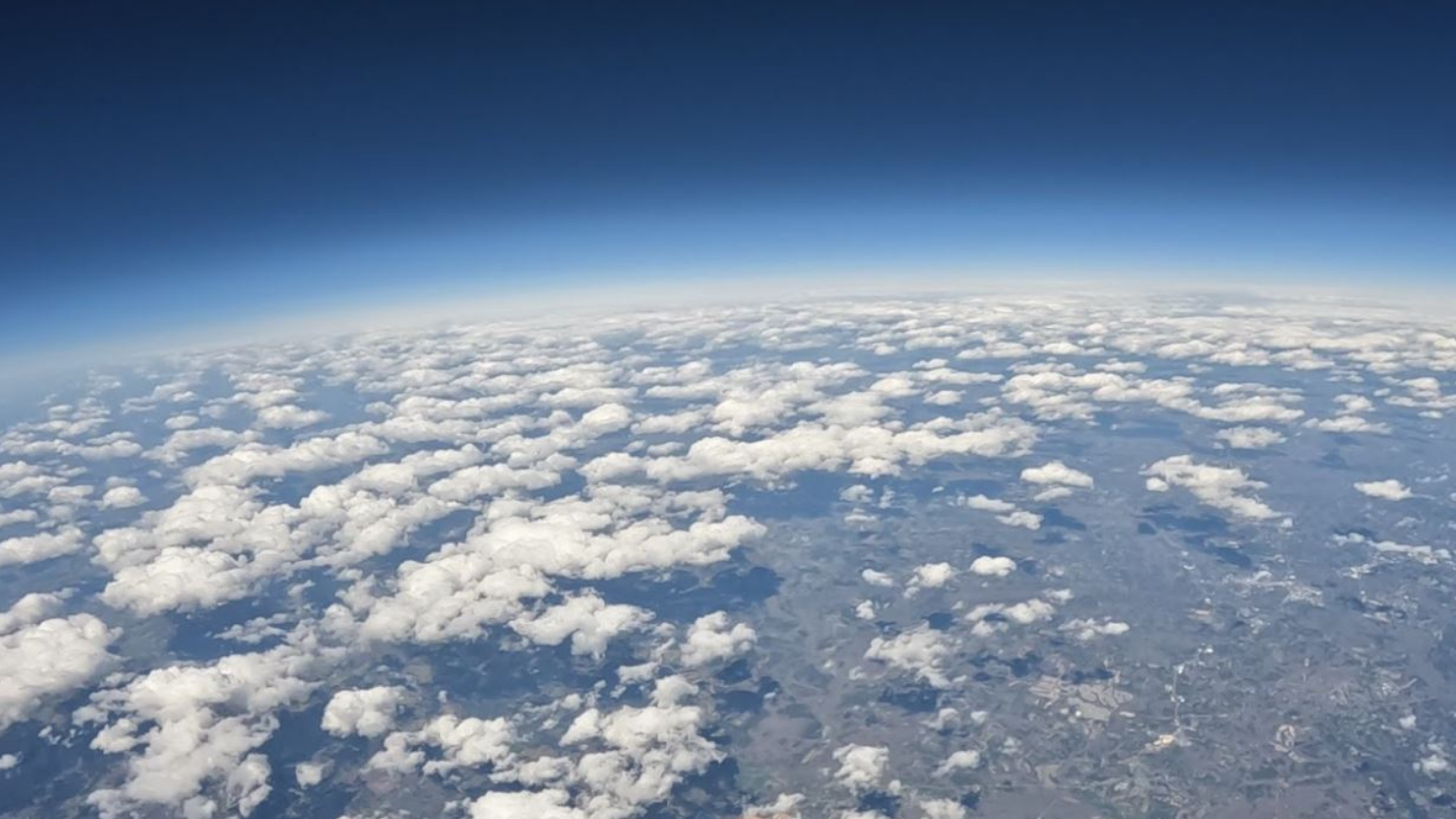 This image, taken by the South Piedmont Community College high-altitude ballooning team, won in the best photo or video competition category.
By Pat Ben-Israel
Teams from all over the state gathered in person at Catawba Valley Community College in Hickory on March 25, for the first time in three years, to compete in the NC Space Grant Community College High-Altitude Ballooning Challenge and Competition. The NC Space Grant-supported event took place each spring from 2015 to 2019, but went on hiatus in 2020 because of the COVID-19 pandemic.
"NC Space Grant congratulates all participating and observing teams on a successful launch and return to the annual Challenge and Competition!" says Jobi Cook, associate director of NC Space Grant. "Each team exhibited exceptional team collaboration, technical skill and precision, creativity, and perseverance in their efforts."
The five teams reunited on a windy Friday to launch weather balloons carrying payloads built over the course of two semesters. The teams competed to win various awards, including best overall team, highest altitude reached, closest to predicted landing, best outreach and best team photo or video. Three teams joined the event as observers, shadowing the competing teams, in the hopes of forming or re-forming their own teams for future competitions.
"The teams weathered all storms to launch and recover their payloads to the edge of space," mentioned Doug Knight, the high-altitude ballooning project manager. "With Covid mitigations and remote learning at many institutions, the impediments to success were many. But the teams persevered and delivered in launching and recovering their balloon payloads this year. The pictures and video from that high up were almost as amazing as the teams." Knight, an assistant professor of engineering physics at Lenoir-Rhyne University, has been the manager and a vocal champion of the competition for eight years.
All teams produced outstanding work this year. NC Space Grant is proud to announce the winners of the 2022 Community College High-Altitude Ballooning Challenge and Competition:
Best Overall Team: Nash Community College
Highest Altitude: Wake Technical Community College, 93,751 feet.
Closest to Predicted Landing: Caldwell Community College and Technical Institute (CCC&TI)
Best Outreach: Nash Community College
Best Photo/Video: South Piedmont Community College
NC Space Grant intends to host the competition again in 2023 and hopes to welcome back the 2022 teams as well as the teams unable to compete this year due to COVID-related concerns.
"I am very proud of all the teams that competed this year and look forward to seeing them and other teams in the competition next year," Knight said.
☽