NC Space Grant seeks STEM communications specialist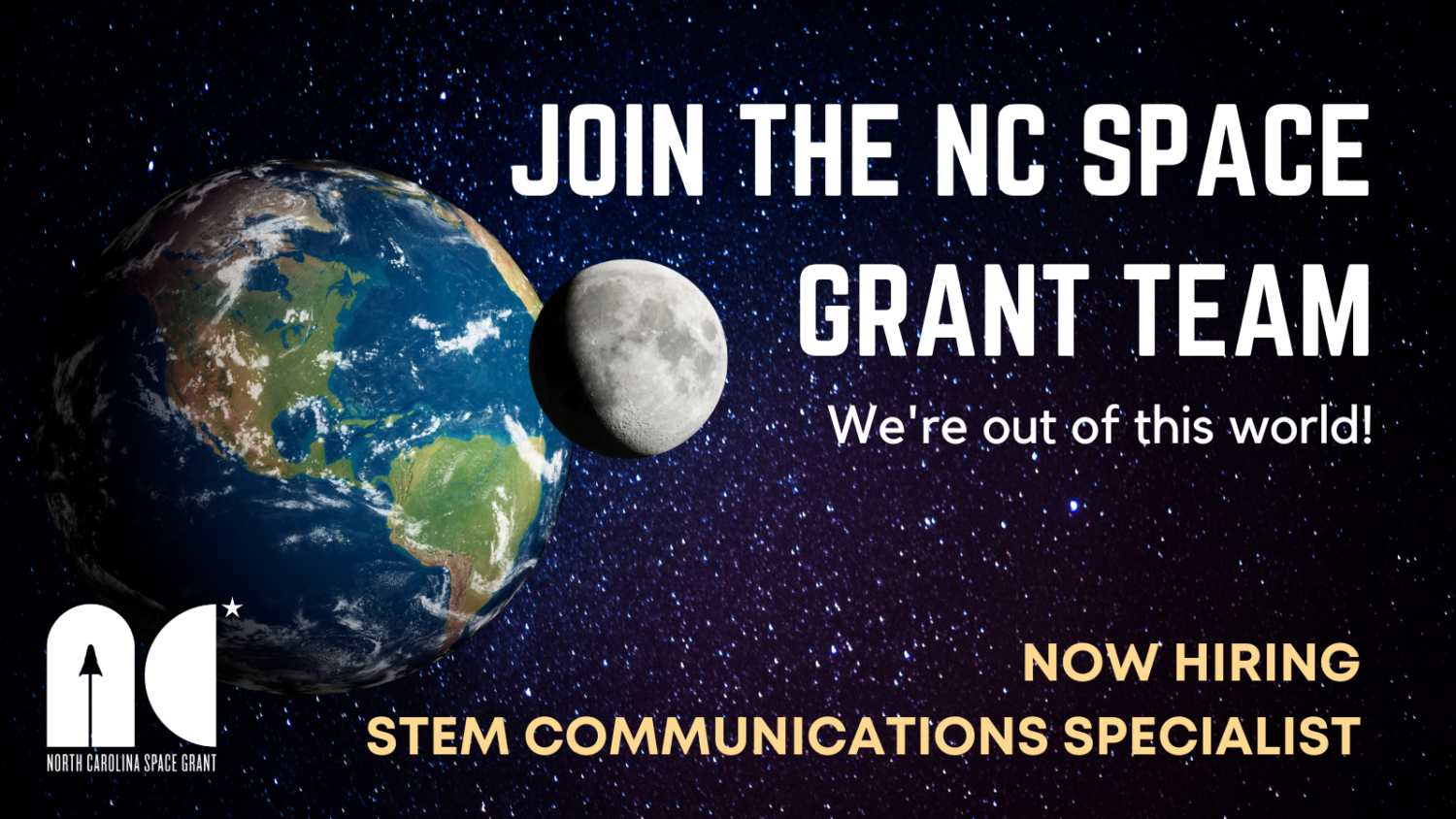 Contact: Katie Mosher, kmosher@ncsu.edu
North Carolina Space Grant is accepting applications for a full-time STEM communications specialist. Details and application requirements are online at: https://jobs.ncsu.edu/postings/167937. Review of applications will begin on Aug. 31, 2022, and the application process could close that day or anytime after.
"As NC Space Grant has increased its outreach in recent years, the role of communications has expanded. We are excited about the opportunities to share stories of current research, student scholars, fellows and teams; and partnerships across the state," notes Susan White, NC Space Grant executive director.
The communicator develops products to share results of STEM – science, technology, engineering and mathematics – faculty and student projects, and education outreach efforts funded or administered by North Carolina Space Grant. These include, but are not limited to, printed and online resources, social media, reports for individual projects and the full program, videos, podcasts, newsletters, blog posts, program identity pieces, and educational materials.
Duties include writing and editing, along with basic graphic design and other multimedia-content-management. The messages inform varied audiences and underscore the value and impacts of the interdisciplinary, statewide program. The position includes collaborations with the National Space Grant College and Fellowship Program network, and other local, state and national partners.
"We encourage a wide range of applicants, especially from communities that have been under-represented in the STEM arenas," adds Katie Mosher, who will supervise the new communicator.
Potential applicants should consult the complete posting on the university website. The position is considered at the journey level, or mid-career, and will be at the NC Space Grant headquarters on NC State University's Centennial Campus in Raleigh, NC.
Among the requirements are a bachelor's degree in a related field or a combination of a degree and experience; and demonstrated ability to understand complex scientific data and science and technology topics, and then to summarize those results into terms understandable to varied audiences.
Preferred qualifications include: experience in science communication or outreach; and five years of professional experience, or a combination of an advanced degree and work experience, in science or technology fields; or in communications arenas that could include but not be limited to journalism, marketing or public affairs; or scientific outreach. At least one year of professional experience should have had a science communications focus that can be demonstrated in product samples.
If interested, please complete the detailed application form, as well as the requirements to provide a cover letter, resume and work samples.
—
NC State University is an equal opportunity and affirmative action employer. All qualified applicants will receive consideration for employment without regard to race, color, national origin, religion, sex, gender identity, age, sexual orientation, genetic information, status as an individual with a disability, or status as a protected veteran.
If you have general questions about the application process, you may contact Human Resources at (919) 515-2135 or workatncstate@ncsu.edu. Individuals with disabilities requiring disability-related accommodations in the application and interview process, please call 919-515-3148.
Final candidates are subject to criminal & sex offender background checks. Some vacancies also require credit or motor vehicle checks. Degree(s) must be obtained prior to the start date in order to meet qualifications and receive credit.
NC State University participates in E-Verify. Federal law requires all employers to verify the identity and employment eligibility of all persons hired to work in the United States.
☽