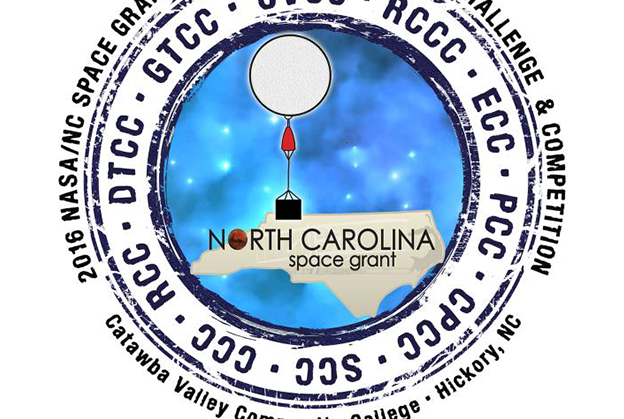 NC Space Grant is pleased to offer a student art competition. We are seeking a community college student to provide a logo design for the 2019 Community College High-Altitude Ballooning Team Challenge and Competition. The winner of the competition will receive a $500 student award.
The logo may be used on t-shirts, posters, flyers and/or stickers, as well as in social media and for other promotional purposes, as determined by NC Space Grant. The student will be featured on NC Space Grant social media as the winner and will be given credit for the logo design as appropriate.
Format and Specifications
The full name of the competition must be included in the logo: 2019 Community College High-Altitude Ballooning Team Challenge and Competition.
The name "NASA/NC Space Grant" must be included in the logo. Participating campus names are not required but can be found on our high-altitude ballooning page.
The NASA logo, a.k.a. "the meatball," may not be used, but the use of the NASA color scheme is encouraged.
The file must be available in high-quality PNG, EPS and/or JPEG file formats. The image should have at least 300 DPI at the scale of print. Ideally, the design size should be near 3000 × 3000 pixels.
The logo should use limited colors – primary colors are preferred – and should be readable in black & white if necessary. 
A file with a transparent background is required.
Square, circle, triangle or other regular shapes are allowable.
The logo should be readable on a small poster or flyer (8″ x 11″) and the front surface of an adult-size t-shirt.
Eligibility Requirements
The student must:
Be enrolled full- or part-time in one of the 58 community colleges within the North Carolina Community College System (NCCCS).
Maintain a minimum 2.5 grade-point average (on a 4.0 scale) during the Spring 2019 scholarship award period.
Be available to consult with NC Space Grant during the month of March 2019 for any design edits.
Selection Criteria and Process
The logo should be relevant to NC Space Grant and high-altitude ballooning.
The logo must meet specs and the file must be available to edit for design requirements.
Submissions must be received by Sandy Canfield by email at srcanfie@ncsu.edu no later than 5 p.m. on Monday, Jan. 14, 2019. The winning design will be selected by a committee appointed by NC Space Grant.
Award Process
NC Space Grant will provide the award of $500 directly to the student in the form of a stipend.
☽