Second Statewide Star Party Event Coming to Eastern NC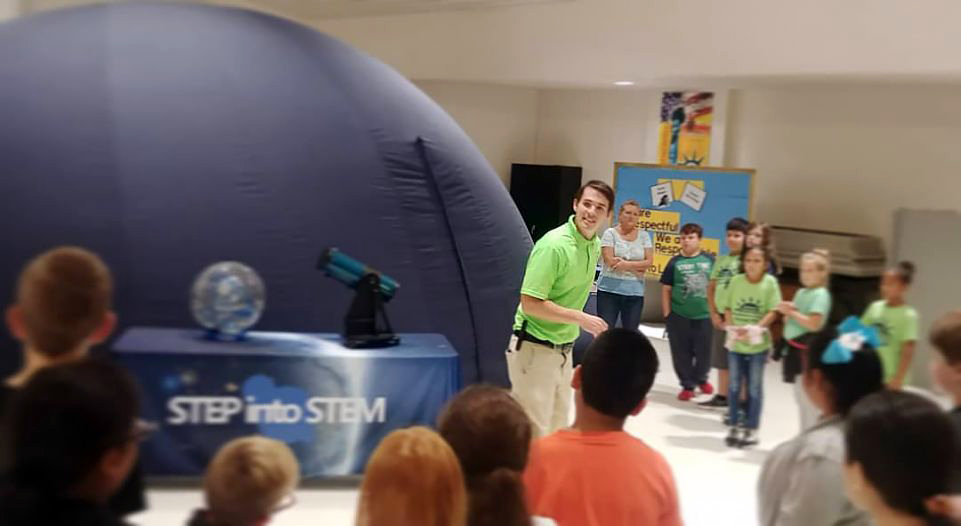 On Thursday, March 7, North Carolina Land of Water (NC LOW), A Time For Science (ATFS) and East Carolina University's Coastal Studies Institute (CSI) will host the second Star Party of 2019, sponsored by the Nightscape Project, at Bertie County Middle School in Windsor, North Carolina.
Astronomer Brian Baker (above) will participate in the Nightscape Project's next community Star Party on Thursday, March 7, from 7 to 9 p.m. The Star Party will be a child-friendly star-gazing event at the Bertie County Middle School Gym. The blog post below is an update of one that ran in January 2019.
The event will feature an indoor, interactive planetarium with showings that astronomer Brian Baker will lead every half hour beginning at 7 p.m. In addition, there will be children's activities and telescopes for stargazing throughout the evening, weather permitting. North Carolina Sea Grant and North Carolina Space Program are among programs funding this child-friendly event.
The Nightscape team will host another Star Party on Saturday, April 13 at Pettigrew State Park in Tyrrell County, in conjunction with the N.C. Science Festival.
As part of the month-long N.C. Science Festival and the Lift Off NC: Apollo + Beyond initiative, NC Space Grant and partners across the state will host a series of Star Party events at more than 50 sites. To honor the 50th anniversary of the Apollo 11 mission to the Moon, the 2019 Statewide Star Party will become the Lunar Party, with skywatching sessions focused on the Moon. The parties are free and open to the public through support from the Morehead Planetarium and Science Center and NC Space Grant, along with the great efforts of community organizers. For more information, visit: ncsciencefestival.org/starparty.
Read about the first Star Party event of the season and the astronomers hosting the Bertie County Middle School and Pettigrew State Park events on our previous post here.