High-Powered Rocketry Alumnus Takes Off In Dream Job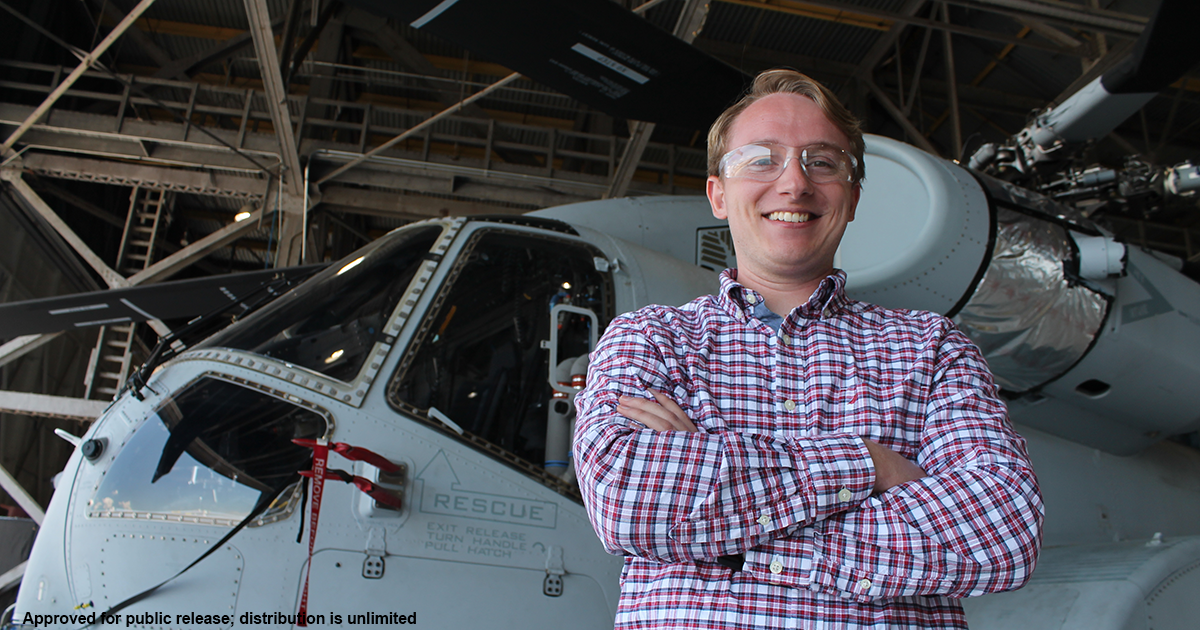 While a typical first-year college student might be consumed with navigating campus life, adjusting to college-level classes and simply figuring out where the dining hall is, Raven Lauer, an North Carolina Space Grant-supported student, was signing up to build and fly rockets with the High-Powered Rocketry Club at North Carolina State University, nicknamed Tacho Lycos. The high-powered rocketry club, sponsored by NC Space Grant since 2012 through the Team Experience Awards program, quickly allowed him to make new friends with similar interests and jump into the design, manufacture and testing process he would utilize from the first club meeting through graduation and beyond.
In his early classes at NC State, Lauer was able to meet others who had a passion for flight that matched his own. However, he often stood out, being the only one with a deep love for helicopters.
Lauer grew up near a small airport with a helicopter flight school. During the summers, he would volunteer to wash the aircraft in return for a backseat ride during maintenance flights. That experience gave him the itch for flight. The NC State high-powered rocketry team helped scratch that itch, teaching Lauer transferable skills in the process, from basic engineering philosophy to team management.
Hard Work, Big Wins
In 2015, while Lauer was the coordination officer for the team, they won the NASA Centennial Challenge's Mars Ascent Vehicle Prize, worth $25,000, for their design.
"Everything went flawlessly," Lauer says. The competition challenge was to build an autonomous system that could locate a soil or rock sample on the ground – simulating a Mars-sample gathering task – pick up the sample with a robotic arm, load the sample into the rocket, raise the rocket to vertical, insert the igniter and launch.
Forty teams from around the nation entered the competition, but only 19 made it past the critical review, design and fabrication process. The challenge was so rigorous that only three teams completed all the challenge steps. The greatest prizes of the competition, though, were the students' exposure to the NASA design process and ability to network with NASA engineers at Marshall Space Flight Center in Huntsville, Alabama.
"I saw that NASA engineers are normal people, too," Lauer recalls. Meeting people who worked for such a prestigious organization and yet were down to earth gave Lauer more confidence that he, too, could become an aerospace engineer. He also met several NC State graduates who worked at Marshall Space Flight Center. They opened his eyes to the fact that the path through NC State could lead straight into a career at NASA.
Homer Hickam, author of "Rocket Boys" and inspiration for the film "October Sky," visits the NC State high-powered rocketry team's booth at the 2018 NASA competition.

Lauer (right) and a teammate walk their subscale rocket, "Very Nuts II," to the launch site at the 2018 NASA competition. The team named the rocket using an anagram of "university."

Lauer holds up the check from the high-powered rocketry team's big win at the 2015 NASA Centennial Challenge competition.
A Chance to Take Off
Even while enjoying his time with the high-powered rocketry club activities, Lauer maintained his passion for helicopters.
In 2017, one of Lauer's professors received an email from NC Space Grant asking him to spread the word about a helicopter program, which NC Space Grant helped fund at that time, along with the Connecticut Space Grant Consortium. The professor immediately thought of Lauer and recommended he apply. It was a perfect opportunity – and a new one, since NC State did not offer any courses specifically about helicopters in its engineering programs. He jumped at the chance.
When he was selected, Lauer and his cohort had the opportunity to travel to Connecticut, take basic rotorcraft classes from Dr. John Wong, a helicopter expert at the Connecticut School of Science, and work on a group project to design, build and fly a vertical takeoff and landing (VTOL) drone. The students also had chances to interact with aerospace industry professionals and tour the facilities at leading aerospace firms, like the Kaman Corporation, Pratt & Whitney and the Sikorsky Aircraft Corporation, founded by the inventor of modern helicopters, Igor Sikorsky.
According to Lauer, learning engineering concepts in the classroom and seeing the design process live were very different experiences.
"Thermodynamics classes can teach you how a combustion engine works,"he says, "but when you lift the hood, you realize you don't know anything,"
Seeing the helicopters and engineering processes at work was eye-opening, but was not the only benefit of the helicopter program. During the tours and over meals, the students were able to network with helicopter pilots, designers and engineers in the heart of the industry in Hartford, Connecticut.
Lauer was able to start a conversation during a group dinner with one of the workshop's guest lecturers, John McGonagle, chief pilot and director of flight operations at Sikorksy. McGonagle was apparently impressed by this enthusiastic young pilot and helicopter fanatic, and encouraged Lauer to reach out and apply for a position at the company. After returning from the workshop, Lauer went straight to work updating his cover letter and resume and applied to multiple open positions at Sikosky, under McGonagle's guidance.
Dream Come True
Now, after graduating NC State with dual degrees in aerospace engineering and history in 2018, Lauer has his dream job as a flight test engineer at Sikorsky, a Lockheed Martin company. He is focusing on tail rotor engineering for the CH-53K King Stallion Marine helicopter, the largest and heaviest helicopter in the U.S. military and among the largest in the world.
On the job, Lauer rotates between monitoring aircraft parameters during test flights and analyzing post-flight data to track fatigue life, component damage, instrumentation health and make recommendations on future test points. Although he spends most of his day in the telemetry room – similar to a mission control room – Lauer is never far from his beloved helicopters.
"I can easily go out, climb on top, tinker with the rotor, get people to help push on it," he comments, laughing. In moments like these, he is utilizing the skills he began building on the high-powered rocketry club back at NC State, using hands-on testing and data analysis in tandem to get a clear picture of the strengths and weaknesses of his designs.
"I use literally everything I learned in college every day" Lauer says. "The [high-powered rocketry] club was like being a flight test engineer. I learned the importance of communication and how to operate in the engineering test environment: You identify a problem, talk with people, then come up with a solution."
Lauer also credits his time on the rocketry team with helping him learn about iterative design, the process of improving a design that engineers from NASA to Sikorsky use constantly: The flight test program identifies any aircraft deficiencies early and often, so they can be corrected as part of the "shakedown" process.
Lauer sits in the cockpit of a K-MAX helicopter at the Kaman Corporation flight test hangar outside Hartford, Connecticut during the NC Space Grant – Connecticut Space Grant Consortium's 2017 Summer Helicopter Workshop.

Lauer leans out of the CH53K King Stallion helicopter he is currently working on at Sikorsky Aircraft.
The Road to Success
For the aspiring engineers and the lovers of all things that fly coming through school now, Lauer offers some unexpected advice: "Put value on humanities and social skills."
Lauer extended his time in college in order to seize an opportunity to join the Benjamin Franklin Scholars program at NC State, offered for those double-majoring in engineering and one of the humanities. He chose history and that experience helped hone his communication and other soft skills. It also helped him to become a more balanced student and person.
"History was my creative escape from engineering and engineering was my structured escape from history," Lauer claims. For his efforts, he earned the Mechanical and Aerospace Engineering Senior Award in Humanities his graduation year.
In addition to the humanities coursework, the program also gave him an opportunity to intern with Rockwell Collins in Winston-Salem, North Carolina, in the summer. There, he tested airplane seats and learned how work in the test environment at a large company, with multiple managers and scheduled deliverables. He used the opportunity to absorb lessons from colleagues and prepare himself to join the workforce.
A Future in Flight
Lauer hopes to remain in his current role through the end of the CH-53K program, even completing the extra training necessary to ride aboard the helicopter as an onboard flight test engineer during tests. Going forward, he plans to continue honing his flight test skills, which he hopes to bring to another helicopter program, or even jump to spacecraft testing. He feels lucky his trajectory for his dream career has been so straight.
"Not many people start college knowing what they want to do, then end college doing that thing," he says. "I wouldn't change a thing!"