NC Space Grant is pleased to announce the winners of this year's Team Experience and Competition Awards, which help undergraduate teams participate in competitions either sponsored or sanctioned by NASA or other STEM-related organizations. Competitions are in the fields of engineering, science, technology and/or mathematics (STEM), and complement the academic studies of the team members. These opportunities help students develop the skills and knowledge base, as well as build strong teamwork capabilities, necessary to succeed in STEM careers in the future. Competitions must provide students with a hands-on experiential learning opportunities related to one or more of NASA's Mission Directorates: Aeronautics Research, Human Exploration and Operations, Science, and Space Technology.
NC Space Grant was excited to see new competitions and teams in the mix this year. Lenoir–Rhyne University will compete in the Spaceport America Cup, sponsored by the Experimental Sounding Rocket Association and the Spaceport America Crew. At the competition, university students will be launching solid, liquid and hybrid rockets to target altitudes of 10,000 and 30,000 feet.
Newcomer Liquid Rocketry Lab (LRL) at North Carolina State University, will complete the construction of a test stand in order to conduct static fire tests of a liquid rocket engine, in hopes of achieving the necessary milestones required to compete in the HeroX Base11 Space Challenge (HBSC). HBSC is a student-led competition to design, build and launch a liquid-propelled, single stage rocket to an altitude of 100 kilometers (known as the Karman Line, the edge of space) by Dec. 30, 2021.
In the 2018-19 academic year, NC Space Grant supported the University of North Carolina Charlotte 49er High-Powered Rocketry Club to compete in the NASA Student Launch Initiative in Huntsville, Alabama. After competition, the team received first place in safety, first place in payload (on-board experiment) design, second place for project review, third place for STEM engagement for their outreach into local schools and communities, and third place for best-looking rocket. They were also awarded the Spring 2019 first place ranking for a senior design project at the UNC Charlotte Senior Design Expo.
NC Space Grant also supported the NC State University High-Powered Rocketry Club, nicknamed Tacho Lycos, in NASA Student Launch. That team won the first place Altitude Award for the team whose rocket came closest to reaching its declared target altitude.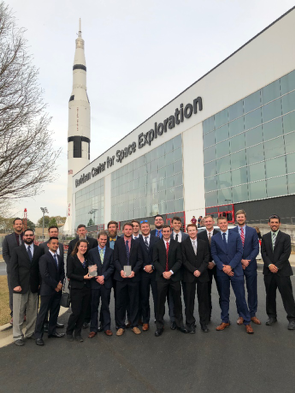 Congratulations to the 2019-2020 winners:
Campbell University, competing in NASA Human Exploration Rover Challenge (HERC), faculty advisor: Lee Rynearson, Ph.D.
Lenoir-Rhyne University, competing in Spaceport America Cup, faculty advisor: Doug Knight, Ph.D.
North Carolina A&T University, competing in (Society of Automotive Engineering) SAE Design Competition West, faculty advisor: John Kizito, Ph.D.
NC State University, competing in American Institute of Aeronautics and Astronautics (AIAA) Design/Build/Fly Challenge, faculty advisor: Jack Edwards, Ph.D.
NC State University, competing in AUVSI Student UAS Competition and the 2019-2020 NASA Student Launch Competition, faculty advisor: Felix Ewere, Ph.D.
NC State University, competing in HeroX Base11 Space Challenge (HBSC), faculty advisor: Tarek Echekki, Ph.D.
UNC-Charlotte, competing in Institute of Electrical and Electronics Engineers (IEEE) SoutheastCon 2020 Hardware Competition, faculty advisor: James Conrad, Ph.D.
UNC-Charlotte, competing in NASA Robotic Mining Competition: Lunabotics 2020, faculty advisor: Aiden Brown, Ph.D.
UNC-Charlotte, competing in 2019-2020 NASA Student Launch Competition, faculty advisor: Jerry Dahlberg, Ph.D.