NASA Kennedy Interns Spent Spring Studying Gases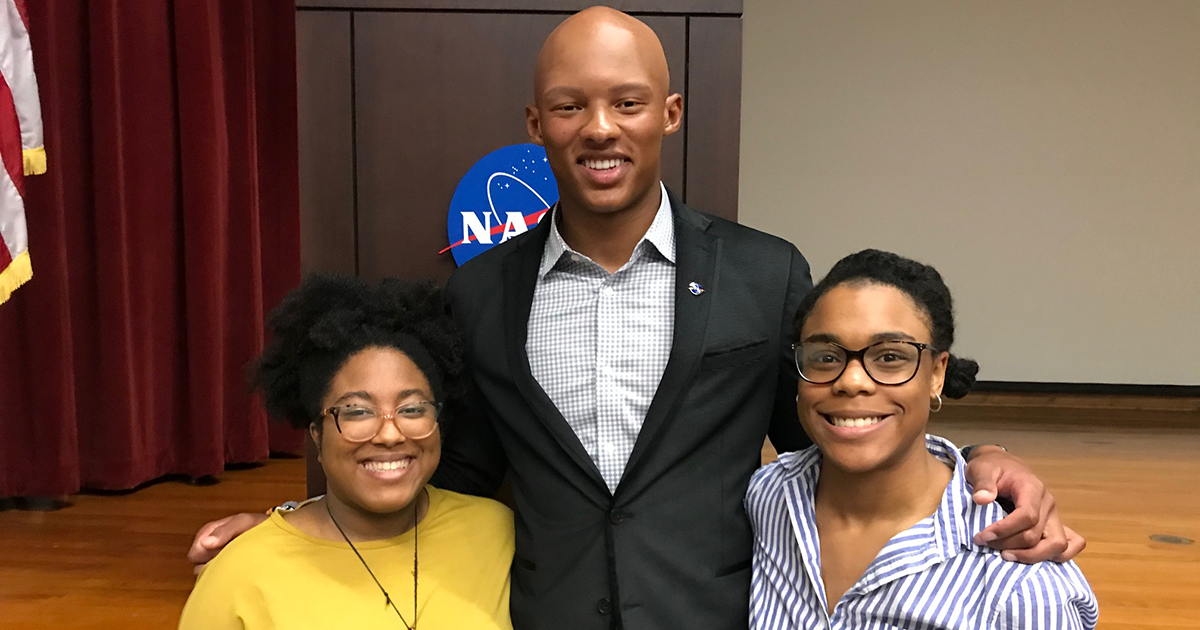 Above: Danielle Chasten and Simone Blaylock pose for a photo with professional football player, R. Joshua Dobbs of the Jacksonville Jaguars, who spoke during their spring internship at NASA Kennedy Space Center about his experiences in NASA Adult Space Camp.
Two North Carolina A&T State University students with chemistry related experience spent their spring interning at NASA Kennedy Space Center with help from North Carolina Space Grant. Their research in the lab determined the safety of the various gases present in Kennedy Space Center's work environments.
Kennedy Space Center interns Simone Blaylock and Danielle Chasten applied for their internship through NASA's STEM Engagement Office. Once selected, the Office of STEM Engagement reached out to NC Space Grant to help support the internship opportunities.
Blaylock and Chasten credit their background in chemistry with preparing them for their internships. Chasten remembers her training in lab safety, lab instrument applications and working as a team during her undergraduate lab experience. Similarly, Blaylock related her daily tasks in the lab at Kennedy to things she learned in her chemistry courses' labs and lectures. Practicing interpretation and problem solving skills gave her the know-how to complete the required independent work each day.
A Regular Day at NASA
On a normal day in the lab, the interns analyzed gas samples to discover the identity of the gases present at Kennedy Space Center. For about four hours a day, they would load gas samples into syringes and inject them into a gas chromatograph-mass spectrometry (GC-MS) device.
The GC-MS takes the sample and vaporizes it, taking it from a stationary phase to a mobile phase. This process happens inside the machine, working like an oven, and whatever temperature at which vaporization occurs, a peak appears on the screen. This process is called mass spectrometry.
The GC-MS process generates multiple ion forms of the substance, then separates them based on abundance of each ion. Each ion's abundance level appears on the monitor as a different peak, showing the researcher which ions are present. A software program takes these results, compares them to a library of known gases and presents the researchers with the closest match for what the gas could be.
This work to identify different gases from samples is important at Kennedy Space Center for multiple reasons. By updating the library of known gases at Kennedy Space Center, researchers working in different projects at Kennedy can know exactly what gases they are working with. If unknown contaminants are present, launches and other operations could be disrupted. Also, knowing the identity and contents of the substances they are working with is essential for the safety of those inside Kennedy Space Center.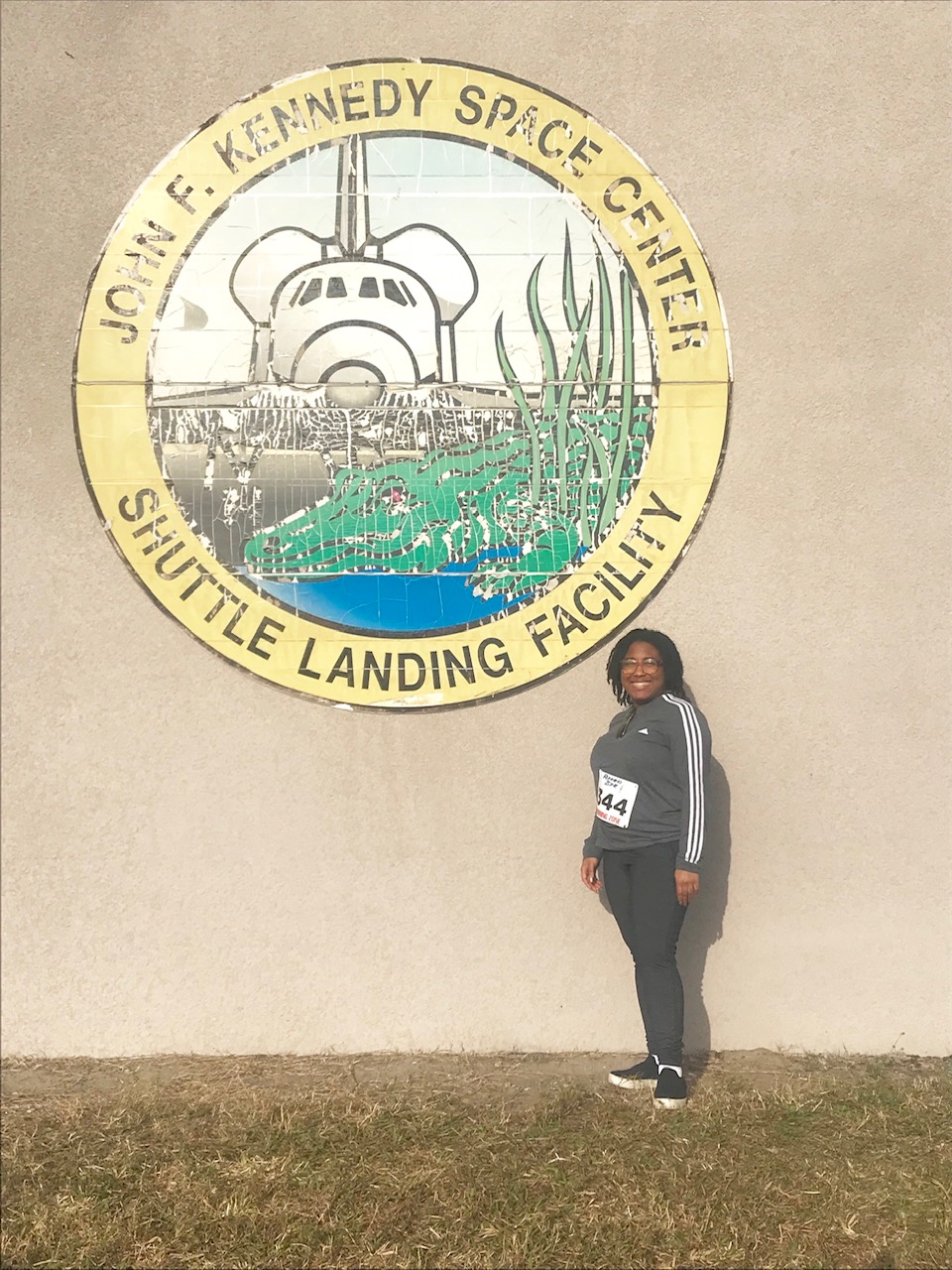 At times, during their research, Chasten and Blaylock ran into some hurdles, particularly because of the limitations of the gas chromatograph instrument itself. If the sample tested was at too low of a concentration, the gas chromatograph couldn't properly detect what gas was being analyzed. This resulted in a lot of troubleshooting for the interns. They usually had to resample the gas three or four times to get the desired outcome from the program.
The limitations of the gas chromatograph also meant unknown contaminants might go undetected, possibly presenting hazardous situations for the staff and NASA missions. These hurdles helped the interns generate ideas about future gas chromatography capabilities. Although their research might have been basic, the interns noted some important applications to possible future research.
If gas chromatography capabilities are increased, and peaks can still be detected at smaller concentrations, Kennedy Space Center's library of known gases could have a lot more contaminants added to its database that appear at trace levels. These capability advancements would further assure the safety of work environments at Kennedy Space Center.
An Internship as a Stepping Stone
Blaylock and Chasten went into the internship with hopes of networking with and learning from the many different minds at NASA Kennedy Space Center, and were lucky to achieve that. Chasten recalled being eager to expand her network through connections made with mentors, other employees and NASA interns who would open her mind to the opportunities at Kennedy and even outside of NASA.
Blaylock remembers setting a goal for herself to ask lots of questions, build her network and always be curious, in order to learn as much as she could. When finally arriving at Kennedy, she was grateful to find an environment that encouraged asking questions to gain skills that she could take with her wherever her career went.
Having the opportunity to work with NASA, although cut short by a month because of COVID-19 disruptions, gave these students important insights into their future academic and career paths. While Chasten pursues experience in her major in food and nutritional science, she is eager to aim for a career with a government organization like NASA while continuing her education. The NASA Pathways Program could serve this exact purpose for her. Because of her internship, she became aware of this possible opportunity.
Blaylock hopes she can take her skills to work in industry and then eventually into teaching. She wants to share what she learned with others. She has always loved sharing science with those around her, and found the NASA Kennedy Space Center culture champions that same goal.
When asked about her greatest lesson learned interning at NASA, Blaylock remembers a key moment seeing a quote inside one of the buildings at Kennedy Space Center: "constantly innovating."
She shared that the environment at NASA is one where people are "constantly innovating," which is inspiring to her.
"They showed it's okay to make mistakes and to not know all the answers, but if you're working towards something, to teach somebody or to help somebody, it's always a learning experience when collaborating together to continue to do things people said could never be done," Blaylock said.