NC Space Symposium Features Astronaut & Other Alumni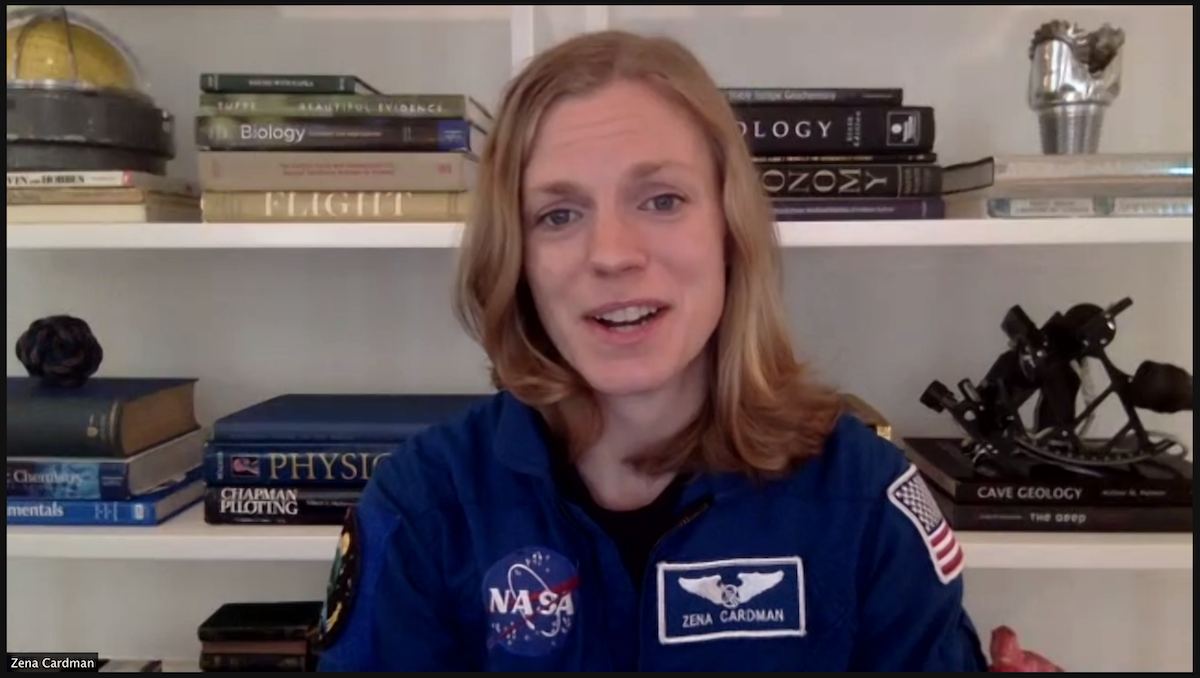 By Jordan Prosser
With 275 attendees, 139 of them students from the elementary to postgraduate level, the virtual 2021 NC Space Symposium in April was an exciting event that brought together space enthusiasts from many different backgrounds.
Keynote Presentation from NASA Astronaut Zena Cardman
Zena Cardman, now a NASA astronaut and a previous NC Space Grant research scholar, offered inspiration and tips for current students.
"I was supported so often by the Space Grant and I feel like it has affected the course of my life in a really profound way," Cardman noted in her virtual keynote presentation. Cardman spoke about her research and astronaut training, as well as the importance of perseverance in her journey. During her NC Space Grant-funded undergraduate research in the Candian High Arctic and Antarctic, she was able to see wonderful views, learn more about extreme ecosystems and make lifelong connections with the teams she traveled alongside.
Cardman's NASA astronaut class graduated in January 2020; all are now eligible for mission assignments. Cardman said, "I think this is the most exciting time to be a part of human space flight, because we have so many different options for which vehicles we might be flying on." Most of her classes' training was tailored to missions destined for the International Space Station, which included learning the station's layout, practicing how to use equipment and robotics, and preparing for travel and life in microgravity.
The space station hosts plenty of research that helps people here on Earth, Cardman noted, "We also learn things like photography and Earth observation, and that's because our most important job on the space station is doing research for Earth, for our home planet." The International Space Station observes wildfires, volcanic eruptions and chlorophyll blooms in the oceans, along with so much more.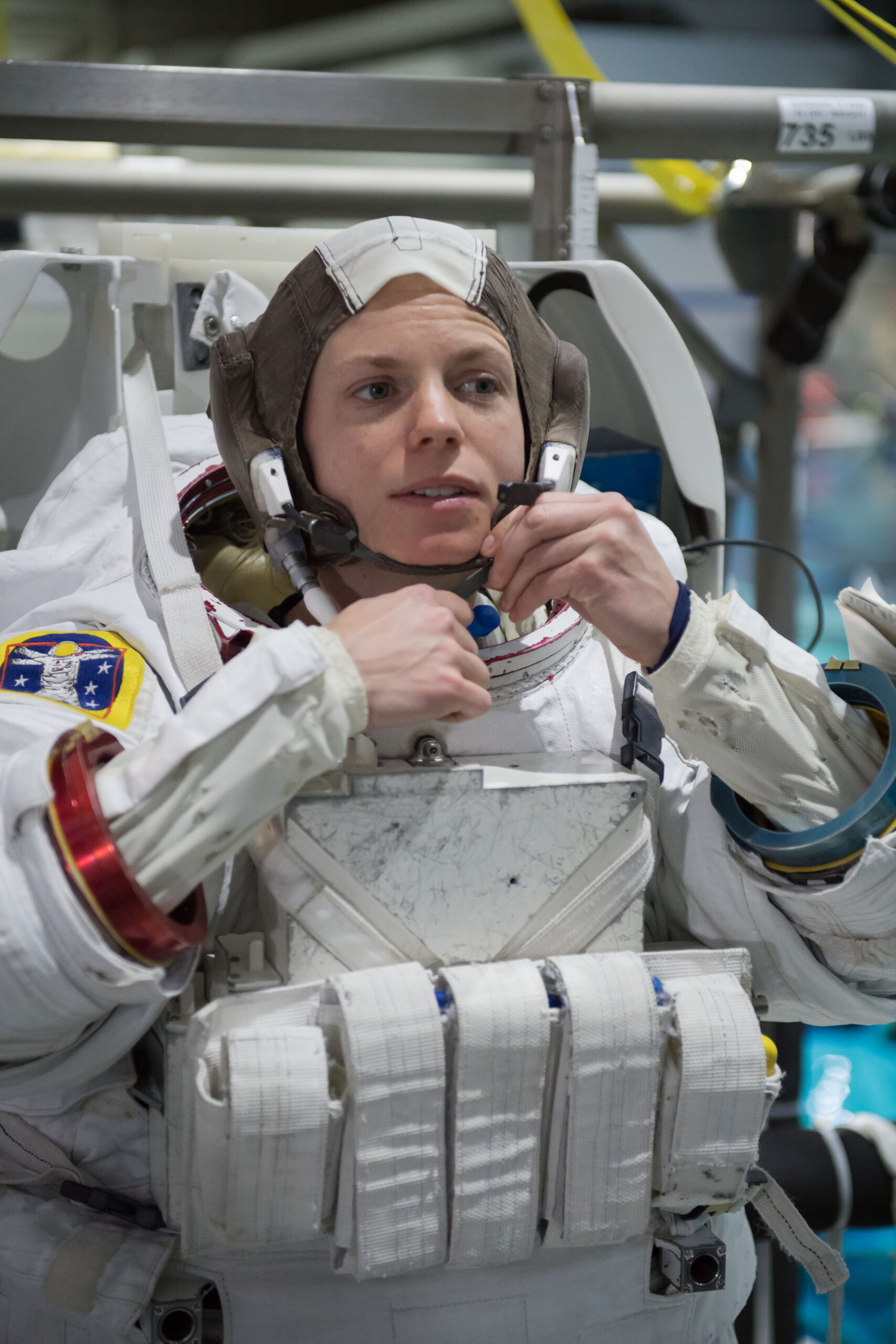 "If you take a look at any of my classmates or any of the current astronaut corps, one thing that you'll notice is there is no single path to becoming an astronaut," Cardman stated. She pointed out that each astronaut brings a unique background and set of skills into training; however, they each leave with a cross-disciplinary understanding of space flight, Earth and research. Cardman described astronauts as scientific "Swiss Army knives" because of the many skills and the breadth of knowledge they have.
Many students had questions for Cardman after the session and she provided words of encouragement. Cardman told the students that "learning how to fail is an ongoing lesson for me, and it's one that I really hope to convey. You shouldn't be afraid of failure. Be excited to fail! You learn so much every time you challenge yourself."
Cardman concluded her talk with reassurances and a call to mentorship: "If you are ever feeling [overwhelmed], just rest assured that that's normal; you're on the right path, and I really urge you to keep going. If, on the other hand, you feel like you are exactly on the right path and you know exactly what you're doing, keep going and don't forget to bring some friends with you. Make sure that you are sharing that excitement with those around you."
Research and Technology Applications Session
After Cardman's talk, NC Space Grant alumni panelists presented on research they have conducted throughout their careers, discussing their NC Space Grant-supported opportunities and the education and career paths they have followed since then.
Matthew Mickens kicked off this session with a presentation on his work at Elevate Farms, Inc. Mickens' early research on luminescent minerals was funded by NC Space Grant and ultimately helped him develop technology that now contributes to vertical farming. He completed pre-doctoral and postdoctoral fellowships at NASA – first studying how to fabricate luminescent materials for LED lighting systems, then creating LED light recipes for growing salad crops in space. In 2017 NASA awarded him Mentor of the Year for his achievements in mentoring his own NASA interns. Mickens is now chief science officer for Elevate Farms, which is an up-and-coming launcher of indoor vertical farms globally.
Stephanie Smith followed, speaking about her career at United Launch Alliance as a contamination control engineer. Smith received funding for research experiences that helped her transition between Sandhills Community College in Pinehurst, North Carolina, and NC State University. She recently contributed to the ULA Atlas V launch that carried the NASA Mars Perseverance rover into space and off toward Mars.
This session wrapped up with a presentation by Ryan Theurer, a satellite visual programmer at GVT LLC, where he consults on projects for the National Oceanic and Atmospheric Administration. During his undergraduate education, he competed with the NC Space Grant-supported team, the Unacceptable Risks of Durham Technical Community College, in the high-altitude ballooning team challenge and competition, before finishing his education at the University of North Carolina at Chapel Hill. Much of his current work is focused on the atmosphere and climate.
The session moderator, Julie Hoover, was the team advisor for the Durham Tech high-altitude ballooning and the NASA Swarmathon teams during Theurer's time at Durham Tech. Hoover secured NC Space Grant funding for the two teams multiple times before moving to a role at Johns Hopkins University, then into her current role as the executive implementation support specialist at NASA Goddard Space Flight Center's Commercialization, Innovation and Synergies office.
NC Space Grant Fellow & Scholar Lightning Talks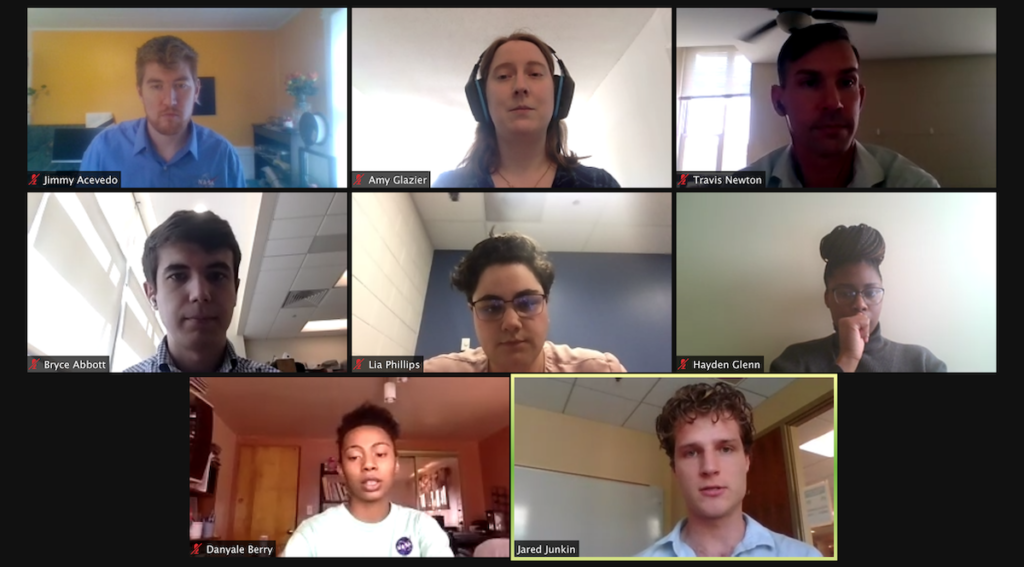 A group of NC Space Grant scholars, fellows and supported interns from the past two years presented their research during the lightning talk session. Talks covered a variety of topics, from earth and environmental research, to physiology research, software engineering and more. More than 40 scholars, fellows and interns recorded lightning talks or created presentation posters that are available on the NC Space Symposium website, divided into six categories: biological sciences; computer science and engineering; Earth and environmental science, technology and engineering; mechanical and aerospace engineering; physical sciences; and astronomy and astrophysics.
The following students presented live:
Travis Newton, NC State University graduate student, NASA DEVELOP intern – Summer 2020
Danyale Berry, Winston-Salem State University recent graduate, NASA intern at Marshall Space Flight Center – Spring 2021
Bryce Abbott, NC State University Ph.D. student, NIA/NASA Intern at Langley Research Center – Summer 2020
Jared Junkin, Duke University undergraduate student, NASA intern at Goddard Space Flight Center – Summer 2020
Amy Glazier, UNC Chapel Hill Ph.D. student, 2020-21 NC Space Grant Graduate Research Fellow
Hayden Glenn, Winston-Salem State University undergraduate student, 2020-21 NC Space Grant Undergraduate Research Scholar
Lia Phillips, Appalachian State University graduate student, 2020-21 NC Space Grant Graduate Research Fellow
Careers in Space Panel Discussion
The symposium closed with a look to the future. A panel of aerospace industry professionals shared their career journeys and weighed in on the educational experience and qualifications employers look for when hiring candidates in their fields.
The panelists included: Liz Warren, a senior program director at the International Space Station U.S. National Laboratory; Chad Brown, the acting program technical integration branch chief, and advanced planning and payload integration manager, for the Exploration Ground Systems (EGS) Program at NASA Kennedy Space Center in Florida; James Ainsworth, the director of engineering services at Collier Research Corporation's HyperSizer Software subsidiary and an alumnus of the NC Space Grant program himself; Heather Nelson, the senior manager for university relations at Blue Origin; and Nicole Bonk, the head of flight testing for consumer-, enterprise- and commercial-grade unmanned aircraft systems (UAS) at Skydio, a rapidly growing UAS company.
Liz Warren described resilience as a skill she developed in her academic career that has served her well — and would serve the symposium attendees well in their future careers. Warren also urged students to seek out new experiences and take up hobbies outside of their own skill sets, to exercise creativity that they can demonstrate to future employers.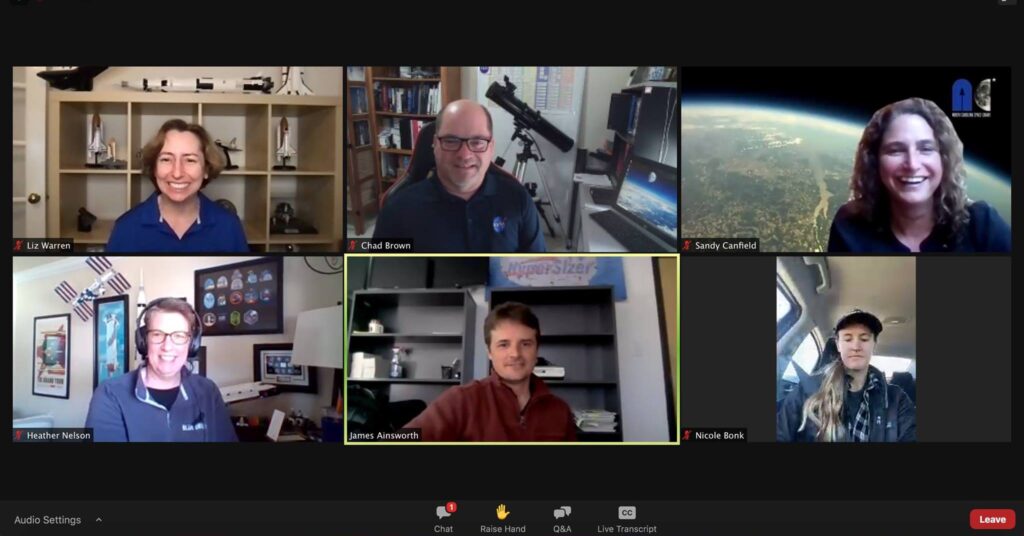 Chad Brown echoed Warren on the importance of extracurricular activities and hobbies, stating that NASA in particular looks for extra skills and qualifications. He also emphasized the importance of good communication skills, in speaking and in writing. It's not enough to be a technical expert, he pointed out. A professional must be able to work well with a team and share their knowledge to others effectively.
James Ainsworth emphasized collaboration skills and seconded Brown's message on communication skills. He passed along good advice he received in college, telling students to always make sure they understand what needs their work products are addressing, so they are able to address them better. "Ask questions," Ainsworth urged. "Understand what someone's going to do with the work you produce and try to get ahead of it."
Heather Nelson noted that the presentation, writing, communication and leadership skills she learned in her academic life and early career continue to serve her today. She advised students to get involved in clubs, where they can experience the whole life cycle of technical projects, plus develop the leadership skills that build success along their career paths. She also emphasized that, at Blue Origins, a demonstrated interest in contributing to a diverse and inclusive workplace gives candidates an edge.
Nicole Bonk agreed with Nelson: While undergraduate coursework in robotics, sensors and programming has proven valuable, experiences gained from participating in extracurricular clubs gave her even more of the skills she needed to advance in her career. Real-world experiences that clubs and teams provide appeal to employers like Skydio, and could help students demonstrate they possess something unique to contribute to a potential employer's team.
"NC Space Grant is grateful to all the speakers for their contributions to making the all-virtual NC Space Symposium a valuable experience for all those attending, particularly for the students who aspire to pursue a future in aerospace and space-related fields," said NC Space Grant's associate director, Jobi Cook. "We look forward to the 2022 NC Space Symposium, when we can catch up with more NC Space Grant students and program alumni and hear from the next group who have launched their aerospace industry careers, helping humans fly higher and explore further."