Above: The A-B Emblem company, the official patch maker of NASA and the International Space Station missions, donated collections of historic patches such as these to the NC Space Education Ambassadors. Patches, clockwise from top right: ISS Expedition 36, Mercury 6 "Friendship 7," ISS Expedition 26, ISS Expedition 44, orbital workshop and ISS predecessor Skylab II, ISS Expedition 15, ISS Expedition 57 and ISS Expedition 14.
When the 2020-21 North Carolina Space Education Ambassadors (NCSEA) embarked on their program, none could have anticipated the ways the program would evolve, or the surprises that were in store. While the educators coped with the ever-changing environment of living and working during a pandemic, like NASA astronauts from the Mercury and Apollo mission days until now, they rocketed above the challenges.
Each NCSEA educator managed to have a stellar year with their fellow inaugural group members – called an NCSEA cohort – learning from NASA Langley education specialists virtually, building STEM lesson plans, designing learning tools, and creating opportunities for their students to experience NASA material at home or in masked and socially distanced classrooms.
They also experienced a bit of serendipity, forging a new connection and earning an extra opportunity in the bargain. When NCSEA cohort member Gretchen Ross appeared in her local newspaper Mountain Xpress of Asheville, North Carolina, in a story about her selection as a Space Education Ambassador, the article passed in front of the eyes of Andrew Nagle, the co-CEO of the A-B Emblem company in Weaverville, North Carolina – the small, sixth-generation family business that has manufactured NASA mission patches since the beginning of the Apollo era.
Nagle was so excited to see North Carolina educators interfacing with NASA to benefit students across the state that he reached out to Ross on LinkedIn with an unexpected offer – what if A-B Emblem were to donate a collection of authentic, historic NASA mission souvenir patches for her to give to her students?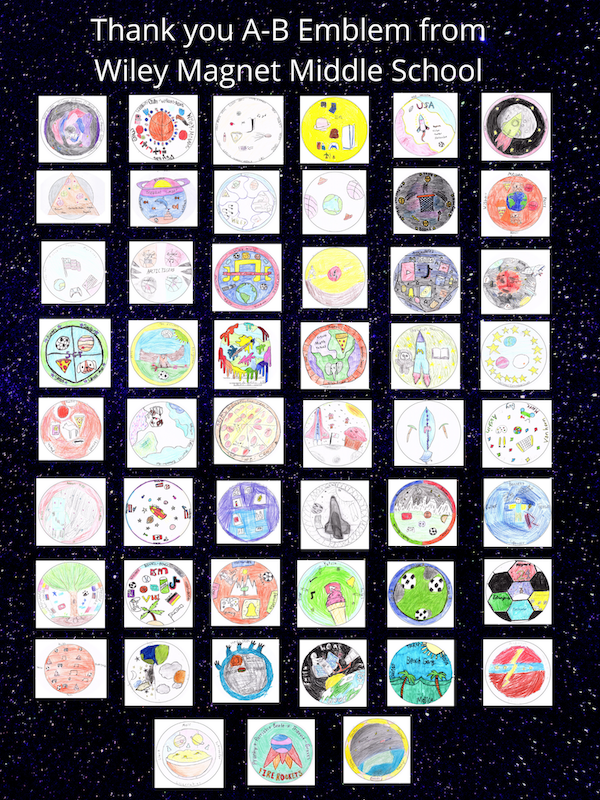 Nagle appreciates how much a physical object can help with learning. "Having students be able to touch something," he says, "there's a tactile learning there that's so important."
Ross eagerly accepted Nagle's offer and, after a conversation with him about his company's enthusiasm for getting patches into students' hands, Ross also pointed Nagle toward NC Space Grant's associate director, Jobi Cook.
"A-B Emblem then reached out to us with a generous offer to donate patches to all the NCSEA educators for use in their classrooms!" recounts Cook.
That wasn't all; Cook shared she had an idea to hold a student contest to design a new patch to represent the NCSEA program.
"I immediately said 'we want to be a part of that,'" Nagle recalls. He notes that A-B Emblem often seeks out opportunities to spread the word about NASA missions and space exploration through their company's products.
Nagle says, "Not everyone can become an astronaut, but it would be cool if, in 30 or 40 years, someone said they became a scientist because of that class or that teacher who gave them a patch. It gives teachers a tool to inspire students."
It's also great for the company. "It's fun for the people here who make the patches. They get to feel that something they make is important," Nagle says. "If you can help tap, guide and mentor a student to greatness, it feels so good."
Cook says, "Andrew and I discussed ways in which we could facilitate a patch design contest. NC Space Grant adopted A-B Emblem guidelines and released the contest, which was open to all students served by cohort one of NCSEA. A-B Emblem served on the review panel to select the winning design and embroidered that design on a patch for each educator, as a generous donation to our program."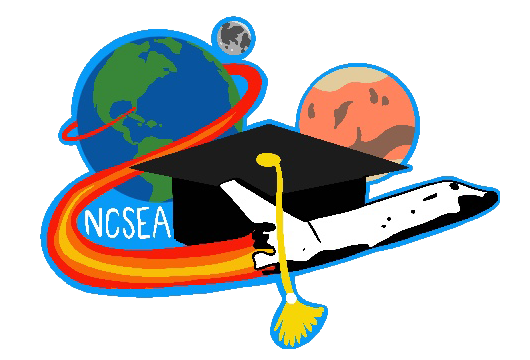 The review panel selected the design created by Keira Linnane, one of NC Space Education Ambassador Christine Sudzina-Schut's then-freshman biology students at East Chapel Hill High School. The A-B Emblem team took the design and transformed it into a real mission patch, which the teachers received at the end of their cohort year as a memento and a reminder of their continuing mission as ambassadors for space learning in their districts.
The boxes of NASA mission patches, though, have a different mission: The teachers have been distributing them to students, as rewards for their efforts in STEM activities or as learning materials in the classroom.
Ambassador Angela Adams found multiple ways to use the patches. For one, they shared them with the Science Olympiad teams, who then researched how each patch design came about.
"We shared that [A-B Emblem] was a North Carolina-based company. We told them how the NASA teams would travel to the city of Weaverville in the past, and that each astronaut contributes to the patch using a symbol which represents something meaningful to them," Adams says. "Students were given a challenge to find out why the patch was created and find information about the mission."
Cliff Hudson, the NCSEA Ambassador for Martin County Schools, also used the patches to ignite curiosity about NASA missions.
"I have distributed patches to elementary and middle school students as an ending to several different NASA and space exploration activities and lessons," Hudson shares, "to learn more about that particular mission [from the patch] and the people from the mission. Students and teachers have found the patches awesome, but the extension from the patch I think was really cool, too."
Another Ambassador, Joseph Hayes of Edgecombe County Public Schools, awarded patches as prizes for STEM competitions, such as the Strategic Twin-Counties Education Partnership STEM Design Challenge and the North Carolina Business Committee for Education (NCBCE) Drone Competition.
"Students were very excited to receive their patches," Hayes says. "When they were awarded NASA patches, they felt they were a part of the NASA team."
Soon, the new cohort of educators from around the state will be announced and begin their first trip around the sun as NC Space Education Ambassadors – the first of many. Meanwhile, the 2020-21 cohort will continue to utilize their A-B Emblem patches, plus their new education materials, tools and techniques to bring exciting NASA STEM learning into their classrooms, plus their communities and whole districts. The first cohort's training year may have ended, but their Ambassadorships will continue for as long as they teach STEM in the state.
As for the field trip to NASA Langley Research Center, the 2020 teachers will have a chance to join a future cohort's in-person trip in the future, ensuring that each cohort enjoys the NASA Langley Research Center magic in person at least once.