Seeding Support of WSSU Astrobotany Lab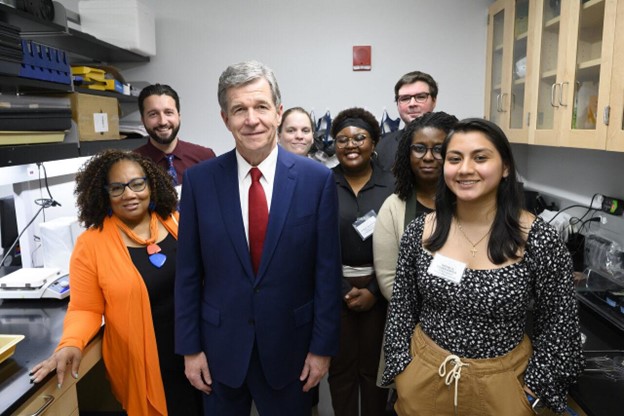 Update October 24, 2022: Dr. Loureiro has been selected for the research team for the NASA-funded project Plant Trek: Investigating Strategies for Regolith Pre-Conditioning to Support the Establishment of Plant-Microbe Systems in Martian Habitats, headed by Dr. Kennda Lynch and Dr. Anna Simpson.
When NC Governor Roy Cooper recently toured Winston-Salem State University, Dr. Rafael Loureiro, head of the WSSU Astrobotany Lab, was there with students to present the literal fruit of their labors: a tomato, grown from lunar-regolith soil. While on-campus, Cooper learned from students about the research they were doing to grow plants in space. Working closely with NASA Kennedy Space Center's Food Production Lab, biologists at the lab lead important studies on plant growth and crop production in extraterrestrial soils.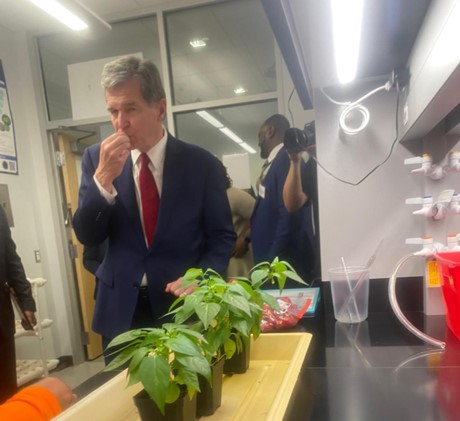 The WSSU Astrobotany Lab had modest beginnings. Loureiro received a New Investigator Program award from NC Space Grant in 2018, which provided startup funding to early career university faculty conducting research aligned with NASA's Strategic Framework. This first bit of funding from NC Space Grant helped to establish the only astrobotany lab at a Historically Black College and University (HBCU) in the country.
NC Space Grant also supported Loureiro via visits to NASA Kennedy Space Center and Capitol Hill. Those trips solidified his connections with NASA, ultimately resulting in a partnership with NASA Kennedy Space Center through a Space Act Agreement with WSSU. This agreement allows students to conduct supplementary research to the projects happening at NASA Kennedy.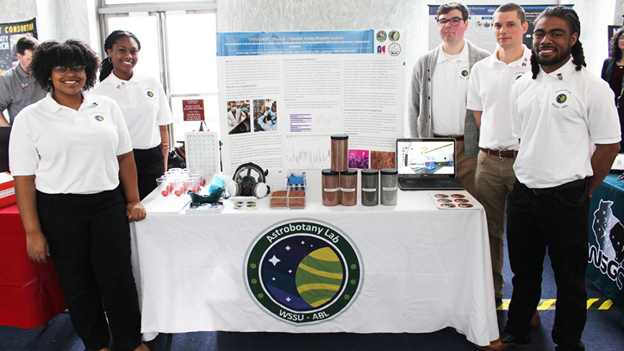 "I couldn't have landed the Space Act Agreement with Kennedy Space Center without the help of NC Space Grant," Loureiro explains. "That support allowed us to go there and show what we were capable of."
NC Space Grant has continued to support the WSSU Astrobotany Lab as it has grown, funding several of its student researchers and their internships. Of six student researchers currently working in the lab, four are funded by NC Space Grant.
"Student research experience is invaluable for entering the workforce or pursuing further education after college," states Sandra Canfield, assistant director of NC Space Grant. "NC Space Grant awards allow all students a chance to seek out such research opportunities."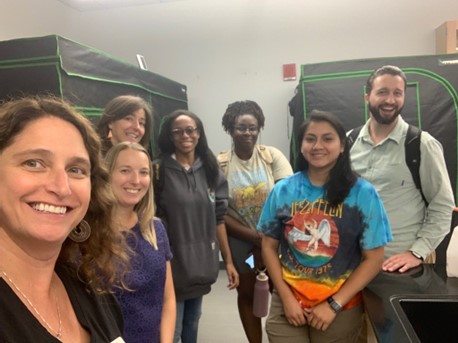 Governor Cooper recognizes the important work being done by the WSSU Astrobotany Lab and the students, not only for future space travel, but also for crop production right at home. "Innovative STEM programs like these are helping to strengthen and diversify our workforce, so our students can take on the jobs of the future," he said in a statement released by his office. "The astrobotany that is going on here at Winston-Salem State, I have no doubt will bring yield to people right here on Earth."
Starting with a seed of support from NC Space Grant, Loureiro and the WSSU Astrobotany Lab have spread roots and flourished — with innovations released by this lab setting a standard for HBCUs all over the country.
☽