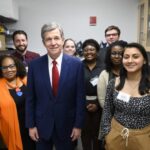 When NC Governor Roy Cooper recently toured Winston-Salem State University, Dr. Rafael Loureiro, head of the WSSU Astrobotany Lab, was there with students to present the literal fruit of their labors: a tomato, grown from lunar-regolith soil. While on-campus, Cooper learned from students about the research they were doing to grow plants in space. ...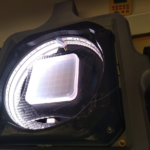 Real astrobotany is very different from the fictional exploits of Mark Watney, the botanist/engineer astronaut stuck on Mars in the story. However, some definite parallels exist between life and fiction. NC Space Grant graduate fellow Aurora Toennisson speaks about her research to grow plants on other planets, the challenges of astrobotany and how The Martian gets it wrong--and right....
Continue reading "Doing Astrobotany Research is Nothing Like "The Martian" … Except When It Is"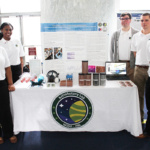 Students from WSSU's Astrobotany Lab and their faculty advisor, Rafael Loureiro, spent spring break at NASA Kennedy's Food Production Lab....
Continue reading "WSSU Astrobotany Lab Shows NASA Kennedy Their Skills"