NC Space Symposium Canceled for 2020
In light of NC State University's announcement today of new policies, NC Space Grant in canceling the 2020 NC Space Symposium that had been set for April 2-3 in Raleigh. Other actions announced by NC State are available online at ncsu.edu.
We are not able to reschedule at this time, because of the symposium's heavy focus on student research. However, we are excited to host our next symposium in 2021.
Find more information in the official message from our director, Susan White, on our news feed.
---
Lunchtime Keynote Speaker
Andrew Molthan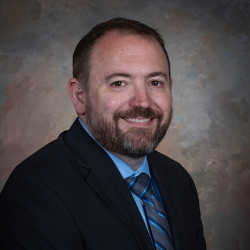 Andrew Molthan supports a broad range of research and applications activities at NASA's Marshall Space Flight Center since joining their team following completion of his Ph.D. in 2009. His early efforts focused on improvements in cloud microphysics parameterizations and multispectral remote sensing for operational weather applications. More recently, his activities at Marshall have focused on supporting NASA's interagency and extended collaborations addressing phases of the disaster management cycle. In the disaster response phase, activities have included collaboration with multiple U.S. state and federal partners to support response to widespread flooding, severe weather, and the impacts of major landfalling tropical cyclones.
Efforts led by Marshall in collaboration with partnering NASA Centers and academia have supported response to Hurricanes Matthew (2016), Harvey, Irma, and Maria (2017), Florence (2018), and Dorian (2019). NASA's team of collaborators have focused heavily on the use of remote sensing to address the challenges of mapping the impacts of these storms and their longer-term recovery, while also looking to sustain the integrated use of tools and capabilities by operational partners through a variety of research and applications activities. Dr. Molthan and his partner reside in Madison, just west of Huntsville.
---
Plenary Session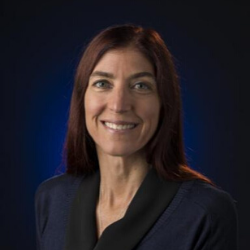 Paula Bontempi has been a biological oceanographer for over 25 years. She began her career as a research intern at the New England Aquarium as an undergraduate at Boston College, earned a Master of Science degree from the Department of Oceanography at Texas A&M University, and a Ph.D. from the University of Rhode Island's Graduate School of Oceanography. During her studies she spent time as a research fellow at the SACLANT Lab in La Spezia, Italy, at Friday Harbor Laboratory at the University of Washington, and as a summer intern at NASA's Goddard Space Flight Center. She moved from the faculty at the University of Southern Mississippi's Department of Marine Science to NASA Headquarters in 2003. Dr. Bontempi spent over 16 years as the program manager for Ocean Biology and Biogeochemistry at NASA Headquarters, as well as the Lead for NASA's Carbon Cycle and Ecosystems Focus Area, before becoming the Earth Science Division's Acting Deputy Director in 2019. She is Program Scientist for MODIS-Terra and Aqua, Suomi NPP, PACE, GLIMR (EVI-5) and the former SeaWiFS mission. She has taught the Earth Science module of NASA's astronaut training class.
In 2019 she was the recipient of the biennially-awarded AGU Ocean Sciences award that recognizes outstanding leadership or service to the ocean sciences by a senior scientist, and was elected a Fellow of The Oceanography Society in 2019 for outstanding and sustained contributions to the field of oceanography, outstanding and wide-ranging contributions to educating and mentoring students and early career ocean scientists, and novel contributions toward promoting a broader understanding of oceanography and oceanographic research to the general public.
---
CLICK THE SECTION TITLES BELOW TO VIEW FULL PANELIST BIOS
Moderator: Andrew Shannon, Center Lead, NASA DEVELOP National Program, Science Systems and Applications, Inc., NOAA National Centers for Environmental Information
Panelists:
Charles Trepte, Project Scientist and Deputy Principal Investigator for CALIPSO Mission, NASA Langley Research Center
Jeff Mobley, Mechanical Engineering Manager, Sierra Nevada Corporation – Space Technologies
Patrick Gray, Graduate Student, Duke University (2019 NC Space Grant Graduate Research Fellow, 2019-20 NASA FINESST Fellow)
Moderator: Cynthia Hall, Community Coordinator, NASA Earth Science Data Systems Communications, Science Systems and Applications, Inc., NASA Goddard Space Flight Center
Panelists:
Stephanie Uz, Applied Sciences Manager, NASA Goddard Space Flight Center
James Sherman, Senior Research Scientist, Appalachian Atmospheric Interdisciplinary Research Facility (AppalAIR) at Appalachian State University (2008 NC Space Grant New Investigator Faculty Award Recipient)
Cade Justad-Sandberg, Recent Graduate, UNC Asheville (2019 NASA DEVLEOP Intern supported by NC Space Grant)
Moderator: Rachel Smith, Director of the Astronomy and Astrophysics Research Laboratory at the NC Museum of Natural Sciences; Associate Professor of Physics and Astronomy at Appalachian State University
Panelists:
Shannon Kobs Nawotniak, Associate Professor Idaho State University, Team Member on NASA SUBSEA and BASALT analog missions
Mallory Kinczyk, Graduate Student, NC State University (2019 NC Space Grant Graduate Research Fellow)
Moderator: Sandy Canfield, Assistant Director, NC Space Grant