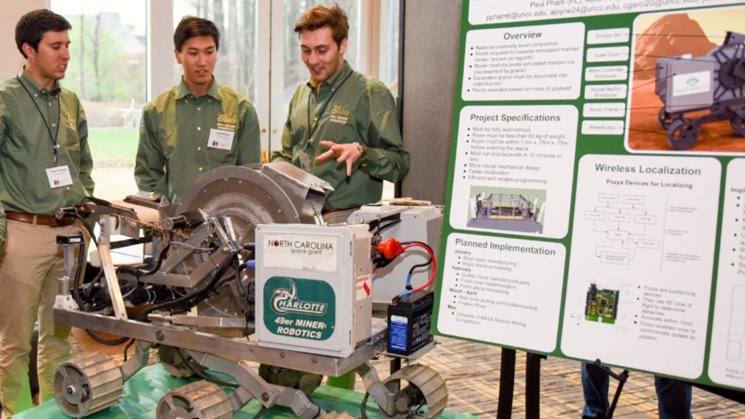 North Carolina Space Grant is pleased to offer three funding opportunities for undergraduate students.
STEM Bridge Scholarship for Minority-Serving Institution Students
To encourage talented underrepresented individuals (women, minorities and persons with disabilities) to pursue STEM related careers, NC Space Grant is now offering the STEM Bridge Scholarship program, a competitive scholarship program for freshman and sophomore undergraduate students at Minority-Serving Institutions (MSIs) with the goals of:
Providing financial support to students who demonstrate the potential to contribute to the future STEM workforce;
Connecting students to faculty and NC Space Grant peers who are conducting research at their institution;
Fostering an understanding of NASA Mission Directorate research and pathways to NASA internships.
To be eligible, students must be U.S. citizens and currently enrolled full time as a freshman or sophomore at an accredited MSI in North Carolina and majoring in a STEM discipline. Applicants must also have a grade point average of at least 3.0 or above and be a member of an underrepresented group, which includes women, racial and ethnic minorities and persons with disabilities. Find more information on the program page linked below.
---
STEM Pre-Service Teacher Education Scholarships
The STEM Pre-Service Teacher Education Scholarship program is designed for students enrolled in STEM-related teacher education degree programs at the undergraduate level (pre-service teachers). Scholarship recipients will be required to complete a series of three NASA STEM Digital Badges, participate in professional seminars and attend a cohort field trip to NASA Langley Research Center. The program aims to:
Promote science education in the K-12 classroom, focusing on improving pre-­college perceptions, understanding and interests in science;
Promote science education in the K-12 classroom focusing on improving pre-­college interests in pursuit of science education and science careers;
Assist in the preparation of teachers entering into the K-12 science classrooms;
Equip future teachers with NASA content and tools to use in the classroom.
---
Team Experience and Competition Awards
NC Space Grant awards funding to undergraduate/ graduate teams to help them participate in national competitions either sponsored or sanctioned by NASA or another STEM-related organization, such as the NASA Student Launch Initiative, NASA Swarmathon, NASA Mars Rover Challenge, NASA Robotic Mining Competition, Shell Eco-Challenge, AUVSI Competition and similar. These competitions should be in the fields of science, engineering or mathematics, and complement the academic studies of the team members.
☽