We are excited to offer a virtual symposium for 2021! The 2021 Space Symposium will take place April 16 from 1-5 pm (Eastern). Please stay tuned for registration information. A message from our director: Greetings...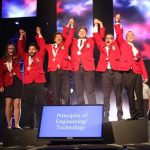 After winning in the state level SkillsUSA championship, NC Space Grant-supported Edgecombe Community College earned national titles....
Continue reading "Big SkillsUSA Wins for NC Community College Students"