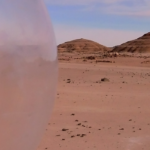 Zena Cardman's love of science is out-of-this world. And that's exactly where the NASA astronaut will be before long. But first, she will be the keynote speaker for the NC Space Symposium on April 16. ...
Continue reading "Amazing Astronaut: Cardman to Share Success at NC Space Symposium"
We are excited to offer a virtual symposium for 2021! The 2021 Space Symposium will take place April 16 from 1-5 pm (Eastern). Please stay tuned for registration information. A message from our director: Greetings...