NC Space Grant announces the third annual cohort of the North Carolina Space Education Ambassadors (NCSEA) program. NC Space Grant expanded the number of ambassadors this year, with 16 teachers from 12 counties. The NCSEA program...
In this Coffee and Viz, Dr. Gary Lackmann from the Department of Marine, Earth, and Atmospheric Sciences and NC Space Grant research scholar Caleb Keaveney talk about the shrinking of Jupiter's Great Red Spot and the meteorology behind it. ...
Continue reading "Coffee and Viz: Meteorological Modeling of Jupiter's Great Red Spot"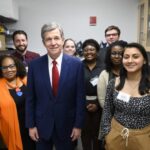 When NC Governor Roy Cooper recently toured Winston-Salem State University, Dr. Rafael Loureiro, head of the WSSU Astrobotany Lab, was there with students to present the literal fruit of their labors: a tomato, grown from lunar-regolith soil. While on-campus, Cooper learned from students about the research they were doing to grow plants in space. ...