Full Circle: Alum Shows Students Cutting-Edge Aerospace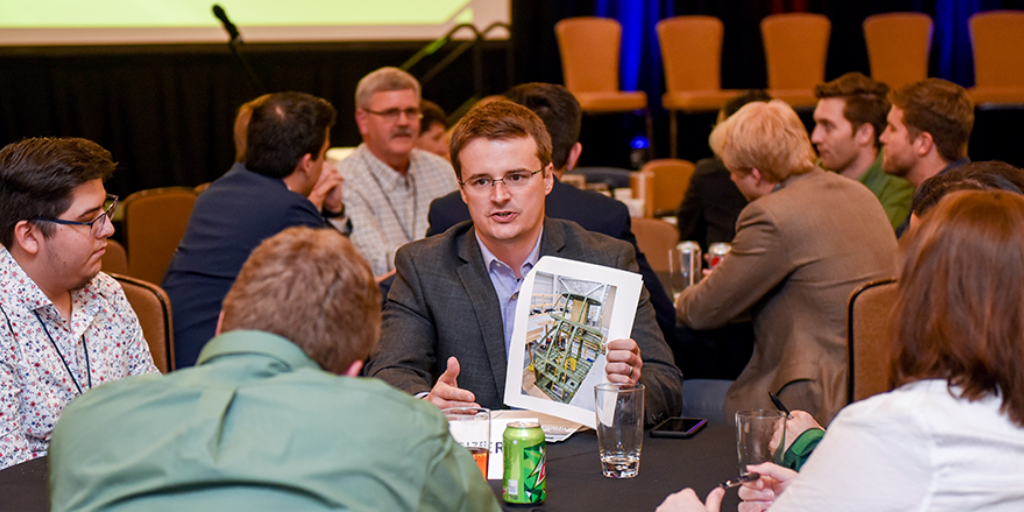 By Pat Ben-Israel
James Ainsworth is a man of many hats, including supporting commercial space launch and aerospace customers.
As director of engineering services with Collier Aerospace and HyperX Software, he is equally serious about mentoring a new generation of students embarking on their careers.
"We have a great company culture. We're all willing and eager to help each other succeed," explains Ainsworth, who leads Collier's summer internship program in partnership with NC Space Grant and serves on the NC Space Grant Advisory Board.
His perspective and efforts fit well with NASA's commitment to partnering with a wide variety of industry partners to successfully accomplish its diverse missions, including the Artemis program and beyond. "NASA recognizes that internships enhance and increase the capability, diversity, and size of the nation's future STEM workforce," explains Sandy Canfield, NC Space Grant associate director.
"The opportunities for students to intern with Collier Aerospace and HyperX Software satisfies multiple NASA objectives," Canfield adds.
Designing a Career Path
Before Ainsworth became a distinguished professional, he was a student at NC State. He grew up in Raleigh and always rooted for the Wolfpack. Early in his college days, he was interested in building racing boats. Then, for a senior project, he led structural design elements for a proposed aircraft — and his career shifted to a flight plan.
His career got a boost via an NC Space Grant scholarship as an undergraduate student. As a scholar, Ainsworth defined the parameters of a project, which his mentor reviewed to ensure progress.
His topic? Designing a crew capsule that considered reentry heating and aero-loads — an experience relevant to the work he does today.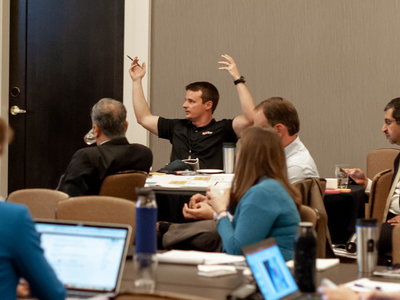 "We do a lot of work for commercial space launch companies, helping them design and analyze the load-bearing structure in their launch and reentry vehicles. So in terms of the Space Grant, it was a good experience because it was really the first time I was able to apply my academic training to a real application," he explains.
Ainsworth started with then-named Collier Research, now Collier Aerospace, 13 years ago in Virginia. As a structural engineer, Ainsworth sought out engineering projects and worked to expand the role of the engineering portion of the company. Over the years the company has grown.
"We can now offer a full engineering solution, that includes the automated stress sizing/analysis tool, known as HyperX, and engineering support with years of experience and knowledge of aircraft and spacecraft design," he notes.
Keeping Connected
Over the years, Ainsworth has maintained a partnership with NC Space Grant through the summer internship program. "It's a great resource for us because we get to use the Space Grant internship as an opportunity to recruit and develop new talent," he says.
Collier Aerospace hosts NC Space Grant-funded students and assigns each to a customer project. Interns gain exposure to industry-standard software, tools to meet federal requirements, and pre-and post-processors. After gaining this real-world experience, many interns stay with the company.
"Every person we've hired through NC Space Grant has been an extremely productive employee and a very talented person we want to hold on to. So it's been an incredible resource for us and we really do appreciate NC Space Grant," he adds.
The partnership works on many levels, adds Jobi Cook, NC Space Grant associate director.
"Our mission is to engage and inspire North Carolinians — and to build a diverse future STEM workforce. We do this, in part, by supporting hands-on experiential and research experiences for higher education students," notes Cook, who first met Ainsworth when he was a funded student.
"James and his Collier colleagues provide opportunities for our scholars to gain real-world experience and technical skills, while also building teamwork and other professional skills, and creating genuine relationships with an outstanding employer."
Return to Raleigh
Collier Aerospace opened its second location in Raleigh two years ago because of rapid growth — and an identified need for aerospace companies in the Research Triangle area.
"Being able to come back to the area, it really felt like I came full circle," Ainsworth notes. "We were able to bring an already successful company to Raleigh and expand the engineering capability, while offering NC State graduates an opportunity to work on very interesting aerospace projects."
Choosing Raleigh was easy because of the company's history of collaborating with NC State. Ainsworth beams when he sees the team working on projects ranging from commercial space launches and vehicles to commercial aircraft.
"Collier Aerospace is still a small business and we're able to work with the large aircraft and spacecraft companies," he explains. "To be a small company and have a seat at the table with these big industry giants and make meaningful contributions to their vehicle design — it's really cool."
Ainsworth already has been part of several NC Space Grant symposia targeted to students and is committed to staying involved with NC Space Grant and NC State — and the young new talent that emerges.
"I tell a lot of young people that there are two main phases I've seen over my career," he explains. "When you come out of school, your first instinct when you get into a company is to find the existing way that the company operates. You figure out a way to improve it and nurse the revenue stream. That's going to be your focus for the next few years."
Then comes the second phase. "Once you've mastered that, and you've trained other people to do that, you start to think: What if I could bring in something that didn't exist before? What if I can start a revenue stream where I start a part of the company that's successful," he adds.
"That's when you figure out what your career path is — when you start to build an organization within the company that's revenue-generating and self-sufficient and operates the way you want to operate."
☽